Tennis camp returns to Chieftain Park
Photo Gallery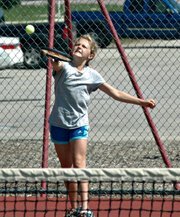 TRC youth tennis camp
The Tonganoxie Recreation Commission hosted its annual youth tennis camp last week at Chieftain Park.
The rarely-used tennis courts at Chieftain Park were buzzing with activity last week when local youths got a rare opportunity to hone their skills with a racket.
The Tonganoxie Recreation Commission hosted its annual four-day tennis camp, giving kids ages 4-10 the chance to work on rules and basic fundamentals of the game. Sid Kanter of Leawood returned to Tonganoxie to work with campers for the 14th year. He and assistant instructor George Hsiao — a 2008 Tonganoxie High graduate — worked with 21 kids in two sessions throughout the week.
"We just give them a little appreciation and exposure to the game," Kanter said. "A lot of the kids come back every year."
Kanter was originally approached by former TRC chairman Ken Mark about putting on a clinic and exhibition match in 1999, and it quickly became an annual event at the park. Kanter said this year's numbers were down, but that was likely a result of an earlier camp time. Last year's camp took place in late June.
Tennis isn't an option at the middle school or high school levels in Tonganoxie, so opportunities to play against organized competition are few and far between. During the camp, instructors discussed the rules of singles and doubles play and worked on core moves.
"Everything is the basics," Kanter said. "The hard thing is they've got five or six different sports they do, and tennis is not going to be high on their list."
Kanter said he plans to teach the camp again next summer.