Tidal Waves open season vs. Bonner Springs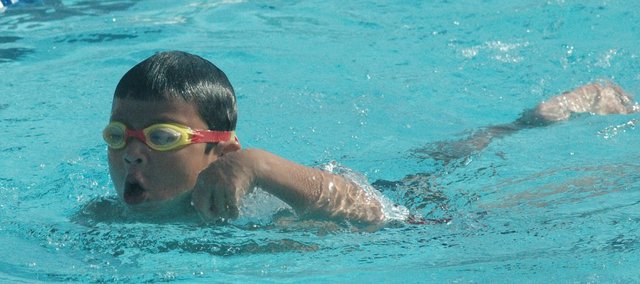 Photo Gallery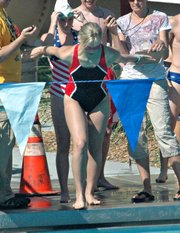 Tidal Waves vs. Bonner Springs
The Tongie Tidal Waves opened their 2013 season Friday against Bonner Springs at Tonganoxie Water Park.
The Tongie Tidal Waves' season-opening meet on Friday marked the first live action for swimmers and volunteers alike, and early returns were positive on both ends of the spectrum.
The team opened its East Kansas Swim League schedule against Bonner Springs at Tonganoxie Water Park. Despite fielding record numbers this season — 107 swimmers, compared to 85 each of the last two seasons — coach Janet Falk said the first meet of the year was void of any major complications.
"Overall, I think everything went very smooth," said Falk, who has served as the team's head coach since its inaugural season in 2009. "Even with the added kids, we were done by 12:15. That's huge because there were more kids to get in the water, so that was very impressive."
The Tidal Waves have more than tripled since fielding 35 swimmers in their first year. This year's squad includes swimmers from Tonganoxie, McLouth, Basehor and Linwood.
Individual and relay times were kept for seeding purposes for future meets, but no official scores were recorded. Instead, Falk said the meet was used as a practice run for parent volunteers, many of whom are working meets for the first time.
"At first, some were a little apprehensive about doing the timing and ribbons because they didn't know what they were supposed to do, but by the end of the meet, they felt much more comfortable," Falk said.
Several swimmers got their first taste of live action, while others returned as season veterans. They dealt with adverse conditions in the weeks preceding the meet, swimming in the rain and battling through less-than-ideal water temperatures.
The team won't have to wait long for its next competition, as it will host the Leavenworth Riptides at 7 a.m. Friday. Leavenworth handed the Tidal Waves a 236-195 loss last year at Wollman Aquatic Center.
"We'll be more competitive, but we'll also do some fine-tuning," Falk said. "We'll clean up our strokes so we don't have any disqualifications. Now that they know what they can swim, it will greatly improve their motivation."