Tonganoxie K-7 baseball blasts Lansing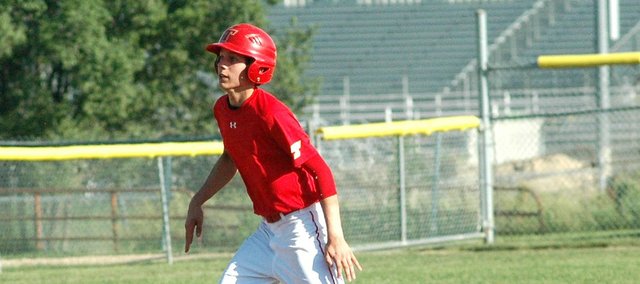 Full 2013 schedule
June 4, at Bonner Springs*
June 11, at Midland*
June 12, vs. Lansing
June 18, at Eudora
June 19, vs. Piper*
June 25, vs. Bonner Springs
June 26, at Turner*
July 2, at Lansing*
July 3, vs. Midland
June 10, vs. Turner
*Indicates doubleheader
The Tonganoxie K-7 baseball team opened the home portion of its schedule in big fashion Wednesday, cruising to a 13-4 win against Lansing at the Leavenworth County Fairgrounds.
Tonganoxie is off to a 4-1 start to the season. It opened the season with a two-game sweep June 4 at Bonner Springs, 3-1 and 13-3, then split a doubleheader Tuesday at Shawnee-Midland Academy, losing 15-0 and winning 8-4.
"We've kind of taken the approach that we're just going to have fun this summer," coach Brad Shelton said. "We're going to work on fundamental stuff and not get too stressed out with the mental part. I think the kids have responded well on just focusing on the physical part of the game."
Offense was the theme from start to finish in Wednesday's victory, as Tonganoxie pounded out 14 hits. The team jumped in front with a three-run first inning. Brady Swedo, Connor Wentz-Hall and Colten Weaver loaded the bases with nobody out and all three came around to score. Lansing got one run back in the second, but Tonganoxie extended its lead with five in the bottom of the inning. Three runs scored on errors, while Wentz-Hall and Travis Woods drove in one apiece.
Lansing scored one in the fifth and two in the sixth, but once again, Tonganoxie had an answer. The team plated four in the bottom of the sixth to kill the rally. Wentz-Hall, Weaver and Justyn Leslie each had RBI singles and Brett Shelton drew a bases-loaded walk. Tonganoxie scored the game's final run on an eighth-inning RBI single by Leslie.
All told, Tonganoxie had four players with multi-hit games. Wentz-Hall and Weaver both went 3-for-4, while Leslie and Swedo had two hits each. Leslie let the team with three RBIs.
Woods got the win on the mound, allowing four runs in six innings of work. He gave up eight hits, but struck out nine and walked just two. Swedo threw three innings of one-hit ball in a relief effort, striking out five and walking two.
"Travis did exactly what he does," Brad Shelton said. "He eats innings up and throw strikes, then Brady Swedo pitched three pretty good innings. That's what we're looking for is guys who can come in for spot relief."
The team will have nearly a week off before its next action. It will travel Tuesday to Eudora for a single game, then host Piper for a doubleheader on Wednesday. The team also had a single game scheduled for June 5 at Piper, but it was rained out and will be made up at a later date.
Tonganoxie 13, Lansing 4
Lansing 010 012 000 — 4 9 3
Tonganoxie 350 004 10X — 13 14 2
Leading hitters: Connor Wentz-Hall 3-4, 2 RBI, 2 runs; Colten Weaver 3-4, RBI, 2 runs; Justyn Leslie 2-3, 3 RBI, run; Brady Swedo 2-4, 2 runs.