Coats to wrestle at Pratt
CC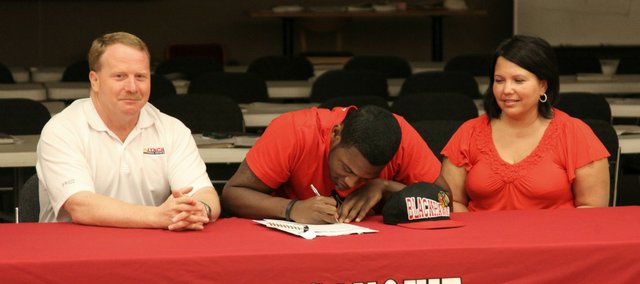 In each of his three high school wrestling seasons, Julius Coats took a step toward bettering himself on the mat. Coats, a recent graduate of Tonganoxie High, made sure Thursday that his chances to improve didn't run out when he received his diploma.
With friends, coaches and teammates watching in the THS Chieftain Room, Coats signed a national letter of intent to wrestle next season at Pratt Community College.
"I've been waiting for this," Coats said. "At first, I didn't think it was going to be possible, but Pratt came through for me, so it feels pretty good."
After joining the high school program as a sophomore, Coats led the Chieftains to unprecedented success in 2012 and 2013. He won back-to-back Kaw Valley League championship and helped THS to a pair of team titles along the way. The 2012 title was the school's first since 1991. He punched his first ticket to the Class 4A state tournament as a junior, finishing fourth at the team's regional tournament in Spring Hill.
Coats raised the bar even higher as a senior and quickly established himself as one of the state's top wrestlers. Wrestling at 195 pounds, he reeled off a stretch of 16 straight wins, jump-started by a 5-0 showing at the prestigious Bobcat Classic on Jan. 12 at Basehor-Linwood. That streak included his second straight KVL title and his first-ever regional title and propelled him to a No. 1 ranking in the state.
Perhaps more importantly, the surge helped the Chieftains to their first regional team title in school history, a feat they accomplished Feb. 16 in their own gymnasium.
"It was good just to leave my mark and know I was the first to win a regional title with the team," Coats said.
Coats suffered a pair of losses at state, but was one of three THS wrestlers to medal. He finished fourth in his weight class, capping off a 35-6 season in which he set a school record with 127 takedowns.
Coats joins a Pratt program that sent six wrestlers to the 2013 National Junior College Athletic Association national tournament. Led by head coach Ken Kepley, the Beavers produced their first-ever national champion last season and finished ranked No. 21 in the nation.
Their success wasn't limited to the mat, as they also wrapped up the year with a 3.03 team grade point average.
"Academically and athletically, the future is very bright for this young man," THS coach Jeremy Goebel said of Coats. "I appreciate everything he's done for our program, our school and our community."
Coats is the second 2013 graduate to sign with a college wrestling program. He joins Gus Dent, who signed with Midland University in Fremont, Neb.
More like this story