Softball, baseball camps return to fairgrounds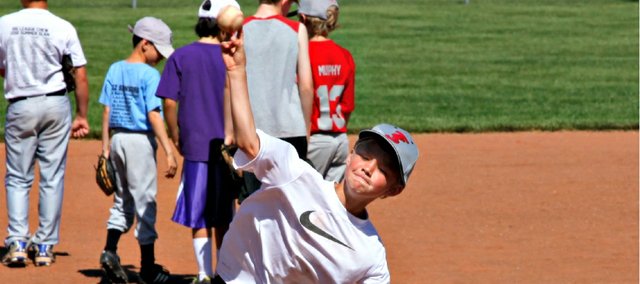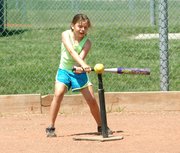 The baseball and softball fields at the Leavenworth County Fairgrounds were recently filled dozens of local youths, who turned out to master the basics of two American classics.
The Chieftain Softball Camp and Blue Devil Baseball Camp — both sponsored by the Tonganoxie Recreation Commission — returned to town last week, giving kids an opportunity to learn and fine-tune their skills on the diamond.
The three-day softball camp, comprised 13 girls ages 7 to 15 — a slight decrease from last year, featured current and former Tonganoxie High players, who covered a variety of topics, including the mechanics and fundamentals of hitting, fielding and catching.
"We didn't have as many girls this year, but they were actually a lot more experienced than normal," said second-year instructor McKensie Knight, a 2010 THS grad who also played at Highland Community College. "It helps a lot because it kind of slows everything down when they don't know how to throw or catch. It's harder if they don't, but we love to teach them how to do it. I love teaching girls how to do it right."
Knight taught the camp alongside fellow 2010 grad Angela Jacobs, who played at Kansas City Kansas Community College, and incoming THS senior Heather Jacobs.
Just across the road, more than 40 kids hit the baseball field for the annual Blue Devil Baseball camp, hosted by KCKCC. Current and future Blue Devil players worked with kids on several fundamental aspects of the game, often implementing basic skills into various games.
"Most of them are very young and just starting to learn the game, but it's fun to be out here and see how they progress," said KCKCC assistant coach Matt Goldbeck, who has run the camp for the better part of the last 20 years. "Baseball is a little different from other sports. There are so many different things that you have to do. It's more of a skill sport and can be a little slow for younger guys, but they just have to keep working on it."
Both camps began on Monday. The softball camp came to a close on Wednesday, while the baseball camp concluded Thursday.