THS

hosts trio of volleyball camps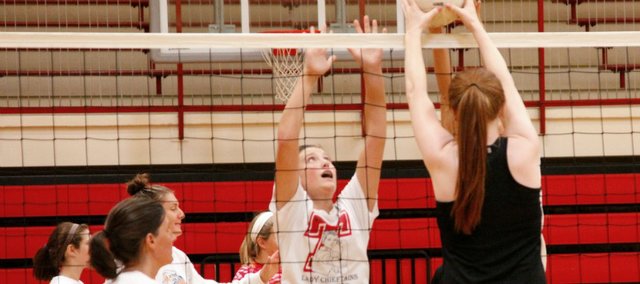 This week brought a change of scenery to the Tonganoxie High gym, as basketball goals were replaced by volleyball nets for four days of camps, camps and more camps.
The THS squad got its first opportunity to work together as a team when it met Monday through Thursday. Players have met for morning workouts and weights throughout the summer, but the camp provided the first look at a 2013 squad with multiple vacancies on the varsity roster.
"It's kind of nice," said senior Caly Ingle-Maxwell, a senior and varsity returner. "Everyone is different and we're still working out new girls, but they're definitely making progress and so are (the veterans). We're working as a team, so I think we're going to do well."
Ingle-Maxwell is one of seven seniors this season, including three who saw significant varsity time in 2012. Marissa Martin and Kara Banks also spent the duration of last season on varsity. Other seniors vying for varsity spots this year are Morgan Oroke, Leah Miller, Kinsey Nelson and Kaylin Nelson.
There are at least two varsity spots open following the graduation of Madee Walker and two-time All-State selection Jenny Whitledge.
With several underclassmen also in the hunt for varsity time, coach Tiffany Parker emphasized the importance of consistent improvement — a trait the 2013 Chieftains have shown in the early stages of the year.
"They seem to be excited about being in the gym and being with each other in a competitive capacity," Parker said. "I only look for them to strengthen their bond together and to keep pushing other to get better. They've been doing a great job, so that's been really nice to have."
Several high school players also helped with a two-day youth camp, which took place Monday and Tuesday. Rather than focusing on drills, coaches and volunteers put kids in game situations, which Parker said gave them a chance to enjoy the sport at an early age.
"They have a great time in that camp," Parker said. "They run around like little crazy people and we have a great time with them. It's been a great experience for our high schoolers to make that bond with the youth."
In addition to the high school and youth camps, the Tonganoxie Middle School teams also hit the gym for four days of work. Coaches emphasized fundamental aspects of the game, giving players an opportunity to fine-tune their basic skills before the start of the season.