TMS

football players meet for camp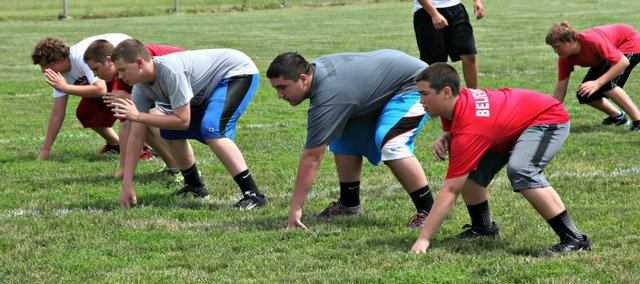 Football fever continues to build as the fall sports season draws closer, and the excitement is growing well beyond the high school ranks.
The Tonganoxie Middle School teams began preparation for 2013 this week with a four-day team camp at the high school practice field. Thirty-two seventh- and eighth-graders hit the field Monday through Thursday for drills led by high school and middle school coaches, as well as high school player volunteers.
"We're just building the foundation of things we want to incorporate all season," seventh-grade coach Jeremy Goebel said. "(The camp) is a great way for us to build that foundation, especially with the help of the high school. Everything coincides with their offense and their defense."
This year's eighth-grade team went 4-3 as seventh-graders last year. The Warriors will try to improve on that record this year, but perhaps more importantly, they'll continue to familiarize themselves with the schemes run by a THS program that ended a seven-year playoff drought last fall.
"The transition and just learning it now makes it simpler on Friday nights," Goebel said. "The older you get, the more complex it gets, but it's all the same system."
Both middle school teams will open the season on Sept. 5 against Basehor-Linwood.