Tonganoxie K-7 stays hot with sweep of Piper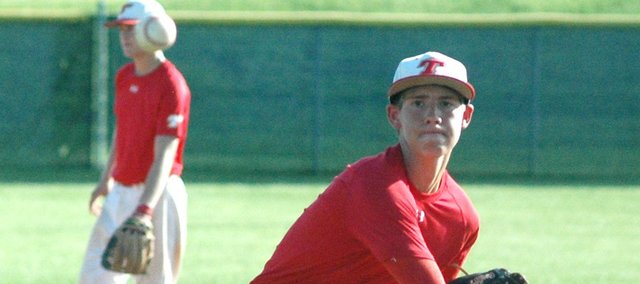 The Tonganoxie K-7 baseball team went a full week without playing against live competition, but the long break did nothing to kill the squad's momentum.
The team earned its second sweep of the season Wednesday with a pair of wins at Piper, 6-0 and 11-3. The games were originally supposed to be played at the Leavenworth County Fairgrounds, but were moved because of a scheduling conflict.
Tonganoxie (6-1), which saw Tuesday's game at Eudora postponed because of inclement weather, got a complete-game shutout from Travis Woods in the opener. Thomas Minor got the start in the nightcap and Connor Wentz-Hall threw four innings of relief in a five-run victory in the nightcap.
Offensively, the team is averaging 7.7 runs per game this summer and has reached double digits three times.
"We're pretty loose this summer," coach Mitch Loomis said. "When we do practice, all we do is focus on the offensive side of things. We're just going to keep playing loose and have a little fun this summer."
With the sweep, Tonganoxie maintained its lead in the league standings. It currently holds a half-game lead over Shawnee-Midland Academy (5-1) and Turner (6-2). The team will return to action on Tuesday when it welcomes Bonner Springs to town for a nine-inning game. Tonganoxie swept a doubleheader against Bonner Springs to open the season.