INSERT

DISC

HERE

: Disc golf course makes debut in McLouth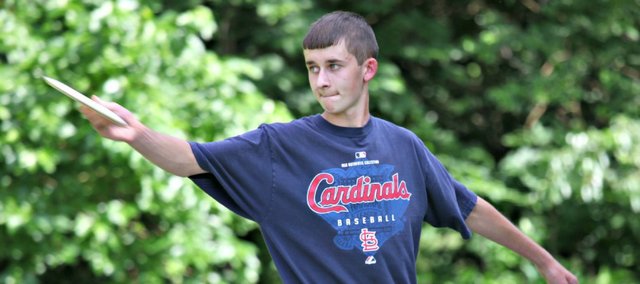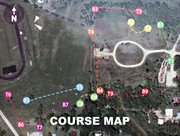 Basic rules of play
• Any throw within 10 meters is considered a putt. Players must remain behind their lie until their disc comes to rest.
• Casual relief (no more than five meters) should be taken from all unsafe lies and the lie should be agreed upon by the group. Relief shall not be taken toward the basket.
• If a disc lands and remains in a tree or bush two meters or more above the ground, the disc shall be played from a point directly below and/or behind this point.
• A lost disc is a one-stroke penalty. If loses from the tee, then re-tee. If not lost off the tee, the group will determine the lie from which the throw was made and the player will re-throw from that line.
• Out of bounds, as marked on the tee signs, is played as a penalty stroke. Play the next shot from the point where the discs entered the out-of-bounds area, but no closer to the basket. The entire disc must land in the out-of-bounds area or there is no penalty.
McLouth — As far as athletics go in McLouth, Gregg Justus noticed a bit of an imbalance.
Justus, a bus mechanic and the McLouth High baseball coach, found a trend among sports teams in the high school ranks. Kids who played, played often, but kids who didn't were usually left with limited extracurricular options.
One simple phone call changed that in a hurry.
Justus, an advocate of disc golf, reached out to Scott Reek, general manager of Dynamic Discs in Kansas City, Kan., about the potential of constructing a course in McLouth. Discussions continued between Justus, Reek and Cliff Weeks of McLouth Parks and Recreation, and six months later, vision became reality.
"I was seeing the same kids going out for football, basketball, track and baseball," Justus said. "Those who maybe aren't your traditional athlete, they just didn't have an outlet. I wanted to reach those kids, and that's really how it all got started. If you can do the backhand or forehand motion, you can play the sport. Anybody can do it."
Reek designed a nine-hole course, which was installed in the winter months. Meanwhile, Justus started the MHS Disc Dogs club, which immediately received interest from nearly 20 students. The group meets every Wednesday to play its home course, which made its official debut at a grand opening ceremony on Saturday.
The par-27 course, one of more than 100 known courses in Kansas, covers a span of 2,502 feet. It starts in Rose Park, loops north and around the park, heads toward Stan Braksick Sports Complex, then makes its way through the trees and back to the park.
"It's not a super simple course, but it's not hard for the pros, either," Reek said. "There are a lot of little things that go into it. So far, the people who have talked to me have given fairly good reviews. We've already kind of adjusted based on those comments, but overall, it's been pretty good."
Courses near McLouth include Perry Lake — another newly constructed venue — and Riverfront and Centennial Park in Lawrence. There are as many as 40 courses available in Kansas City, which Reek labeled "the Mecca of disc golf."
There have already been discussions about expanding the McLouth course to 18 holes, in which case Justus would likely approach local businesses about sponsoring holes. Players can find additional info and give reviews of the course at dgcoursereview.com.
Reek hosted a clinic Saturday in conjunction with the opening ceremony. Dynamic Discs, an Emporia-based organization, is the largest promoter of the sport in the Midwest.
Since starting the high school club, Justus has invited experienced guest instructors — Reek included — to teach club members the basics of the game. The club has also received backing from other local organizations, including Dawn to Dusk in Topeka and the KC Flying Disc Club in Kansas City, Kan.
"The whole disc golf community has been an amazing support," Justus said. "It's spread out, but it's a very tight-knit community."
That welcoming atmosphere extends well beyond the amateur ranks, Justus added. He recently went to Kansas City, Mo., to watch the Kansas City Wide Open, a PDGA tournament featuring some of the sport's top competitors. He had the opportunity to interact with several players during his visit — an opportunity not often provided in other sports.
"I can't get Derek Jeter to come out and to a seminar for baseball, but for disc golf, it's wide open," Justus said. "I think that's great for any school that wants to try to get into something like this."
McLouth's efforts haven't just been noticed at the state level. The club recently received a grant from Educational Disc Golf Experience, a non-profit organization endorsed by the Professional Disc Golf Association. The grant includes 20 putt and approach discs, as well as access to the EDGE curriculum, including instructional videos and lesson plans. Justus said the grant should allow the district's physical education teachers to incorporate the sport into their curriculum.