Bartholomew, Soetaert named to Journal-World All-Area soccer team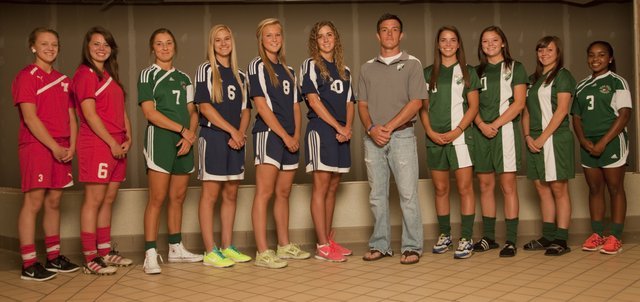 Player of the year
Abby Sieperda, Mill Valley
Playing forward and outside midfielder for the Jaguars, Sieperda delivered 31 goals and 12 assists for MVHS en route to the team's fourth-place finish at Class 5A state. Mill Valley lost, 3-2, to Valley Center in the semifinals and fell, 2-1, in overtime to Wichita Carroll in the third-place game.
Coach of the year
Jesse Smith, De Soto
The Wildcats finished 14-7 this spring and took third in the 4-3-2-1A state tournament, earning the best finish in program history. After a narrow 1-0 loss to Winfield in the state semifinals, De Soto beat Spring Hill, 3-1.
First team
Aly Bartholomew, Tonganoxie
A physical junior defender who earned first team All-Kaw Valley League and All-Region honors, Bartholomew helped protect Tonganoxie's goal from pesky attackers. With her outstanding play on the back line, the Chieftains won their second consecutive 4-3-2-1A regional title this spring.
Maddie Dieker, Free State
All-State, All-Region, All-Sunflower League — if there was a postseason award list, the junior Firebirds midfielder appeared on its first team. Dieker's skill and creativity with the ball helped her pass out 10 assists to her teammates and score four goals for FSHS, which finished the season 10-7.
Kayla Hamner, Mill Valley
Mill Valley's senior center midfielder led the Jaguars to a 15-4-1 season in her fourth year as a starter. Hamner made the All-State first team each of the past three years and put up amazing numbers in her final spring at MVHS: 30 goals and 13 assists.
Olivia Hodison, Free State
A junior defender, Hodison didn't need goals or assists to make an impact. Playing with speed and toughness on Free State's back line, she constantly stymied opposing attacks with her feet, head and great instincts, helping the Firebirds achieve shutouts in nine of their 10 victories.
Michelle Keleher, De Soto
Competing through pain after offseason foot surgery, the De Soto senior midfielder played in every game and finished with eight goals and 10 assists. Keleher's persistence often won the ball for the Wildcats, and then her first touch and power put DHS in position to succeed on offense.
McKenzie Koch, Mill Valley
Although Koch served as one of the Jaguars' defenders, she scored five goals and distributed six assists when offensive opportunities appeared. Her vision, speed in the open field and ball skills made her a vital part of the MVHS defense and earned her an All-KVL first-team spot three years in a row.
Lauryn Leininger, De Soto
The glue that kept the Wildcats' defense together, the senior sweeper almost never left the field. A clever defender, Leininger could play long passes over the midfield accurately or just keep possession for her team. She denied opponents time after time, then set De Soto's attack in motion.
Abby Sieperda, Mill Valley
The junior's incredible footwork, ball skills, touch and strength made her extremely difficult for Jaguars opponents to handle. Sieperda has started every season at MVHS, earning All-State recognition three years in a row. She has orally committed to play at the University of Arkansas after graduation.
Emily Soetaert, Tonganoxie
In her junior season, the Chieftains forward set a pair of program records, netting 14 goals and 11 assists. With Soetaert, an All-KVL first team member, pushing the tempo, THS achieved a 9-8 record on the year — marking the first time in program history a team finished with more wins than losses.
Allison Stanley, De Soto
A Wildcats captain who completed her senior year with 26 goals and 15 assists, Stanley scored twice and assisted on another goal in the 4-3-2-1A third-place game, helping DHS beat Spring Hill at state. She finished her career with 41 goals and 18 assists and was named her region's offensive player of the year.
Honorable mention:
Keeli Billings, Lawrence; Logan Butler, Ottawa; Alex Ewy, Lawrence; Rylee Fuerst, Free State; Ella Magerl, Lawrence; Brianna Pfizenmaier, Ottawa; Jillian Prather, Ottawa; and Molly Welsh, Tonganoxie.