Whitledge named to Journal-World All-Area first team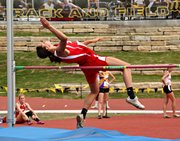 Athlete of the year
Alexa Harmon-Thomas, Free State
Class 6A's champion in three events — 100-meter hurdles, 300 hurdles and long jump — the Firebirds junior also finished second at state in the high jump. Her masterful weekend contributed to Free State's first state title and helped Harmon-Thomas earn the Gatorade Kansas Girls Track & Field Athlete of the Year award.
Coach of the year
Ted Zuzzio, Baldwin
Life is good for the freshly minted National High School Athletic Coaches Association Hall of Fame inductee. Zuzzio's Bulldogs won the program's third 4A state title in the past four years this spring, and Baldwin won every meet it attended, while setting school records in six events.
First team
Kaitlyn Barnes, Baldwin
The senior ran for Baldwin's 4x400 relay team all four years, contributing to a 4A state title each season. Barnes ran the third leg this past spring, as the Bulldogs set a 4A state meet record with a time of 3:58.7. She finished fourth at state in the 800 and 1600, and was the anchor of the second-place 4x800 team.
Emily Brigham, Mill Valley
In her final season, Brigham won a title in the pole vault with a mark of 12-8 — not even her best of the season. The senior vaulted 13-1 earlier in the spring, won Kaw Valley League and regional titles in pole vault and long jump and took second at state in the long jump.
Matia Finley, Lawrence
Toward the end of her sophomore season, LHS thrower Matia Finley kept slinging her discus farther and farther, the higher the stakes rose. She followed a Sunflower League title mark of 133-4 with a second-place regional throw of 134-4 before winning the 6A state title at 139-11.
Rebecca Finley, Lawrence
Only her twin sister, Matia, threw the discus farther than Rebecca at the 6A state meet, where she finished second, with a mark of 135-7. In shot put, Rebecca finished fourth in the Sunflower League, second at a 6A regional and eighth at state, ending the year with a heave of 35-10.
Alexa Harmon-Thomas, Free State
Named the Kansas Relays' Outstanding Female Athlete of the Meet in April, the amazing junior currently ranks in the top 10 all-time in Kansas high school history in the high jump, long jump, 100 hurdles and 300 hurdles.
Katie Kehl, Baldwin
Headed to throw at Oklahoma State, now that her stellar Bulldogs career has ended, Kehl won her second straight 4A state title in discus this spring and added a state championship in shot put to go with it. The BHS senior owned the state's best discus throw of the season (142-8) and the top shot put mark (45-3.75).
Laura Kennard, Free State
A reliable sophomore sprinter for the Firebirds, Kennard took third place in the 6A 400-meter dash, with a time of 59.03. She earned a second individual state medal in the 200, taking fourth, and helped Free State's 4x400 relay team bring home a sixth-place state medal.
Morgan Lober, Baldwin
In her junior season, Lober contributed to new school relay records in the 4x100, 4x200, 4x400 and sprint medley races. She also sprinted to a 4A state title in the 400 (58.04), ran the second leg for Baldwin's state champion 4x400 team and helped the Bulldogs' 4x800 (second) and 4x100 (seventh) squads medal at state.
Bailey Sullivan, Free State
Class 6A's state champion in the 1600 (5:12.29), Sullivan also owned the fastest time in the event among 6A runners all spring: 5:08.24, at the Topeka Seaman Relays. The Firebirds junior earned second place at state in the 800 (2:22.64) and ran first on Free State's 4x400 relay, which took sixth at state.
Jenny Whitledge, Tonganoxie
A three-time 4A state champion high-jumper, the Chieftains senior holds the school record in the event, with a mark of 5-6.5. Whitledge finished sixth in long jump at state in her senior year, holds school records in the 100 and 300 hurdles and long jump, and leaves Tonganoxie as its all-time career points leader, with 773.
Honorable mention:
Janell Clampitt, De Soto; Jordan Erickson, Perry-Lecompton; Maddie Estell, Mill Valley; Haley Griffin, Tonganoxie; Nicole Kruse, Oskaloosa; Grace Morgan, Lawrence; Kennedy O'Dell, Eudora; Melissa Schmidt, Perry-Lecompton; Emma Taylor, Perry-Lecompton; Allie Webb, Eudora; Holly Webb, Mill Valley; and Merideth Wolfe, De Soto.