Chieftain girls reach sub-state finals with
OT

win vs. Bonner Springs
THS

beats Braves for first time since 2009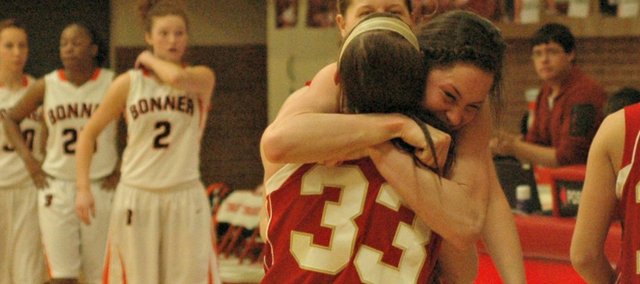 Before Friday night, no player on the Tonganoxie High girls' roster had ever defeated Bonner Springs in a varsity game. But, with their season on the line, the Chieftains finally got the best of their Kaw Valley League rival.
In a rematch of last year's sub-state championship game, fourth-seeded THS guaranteed it would return to the finals — this time on its home floor — with a 49-45 victory against the Braves in overtime. The win was the team's first against BSHS since Feb. 10, 2009, and snapped a streak of seven consecutive losses.
"This is an amazing feeling," said senior Hannah Kemp, who was still in eighth grade the last time a THS team defeated Bonner Springs. "It's our senior year, and they beat us last year to go to state. It just feels so great to finally overcome that."
Playing as the away team because of tournament seeding, the Chieftains (14-7) entered the fourth quarter on the wrong side of a 34-30 score. They opened the period on a 7-0 run to take their first lead since the first half, but the Braves (17-4) scored the next four to go back in front with 4:16 remaining.
A power struggle ensued, and neither team led by more than two points for the rest of regulation. Bonner Springs had a chance to win it in after a steal in the final seconds of the quarter, but Haley Hoffine's half-court heave clanked off the rim at the buzzer, and the game went to overtime tied at 41-41.
"When it got to that fourth quarter, we finally relaxed a little bit," coach Randy Kraft said. "I think we realized it was now or never, and we kind of went into attack mode and got a couple baskets. We didn't play panicked or rushed like we have sometimes."
THS scored the first six points of the extra period and never relinquished the lead. The Braves didn't go quietly, though, as they got back within three and had a chance to tie in the final seconds However, senior Jenny Whitledge blocked a three-point attempt by Hoffine with 18.2 seconds remaining and Hannah Kemp made it a two-score game with a free throw with just 4.4 ticks left.
"(Kraft) told us we needed to take care of the ball and make sure we were scoring every trip," Kemp said. "If we can score and play solid defense, we'll have that advantage. Everybody really focused in and we really came together to make that happen.
Whitledge led all scorers with 15 points and pulled down 11 rebounds for a double-double. Junior Emily Soetaert joined Whitledge in double figures with 13 points, including three three-pointers. Hoffine and Anna Deegan paced the Braves with 14 and nine points, respectively, but both fouled out in the final minute of overtime.
The Braves were also without Julianne Jackson late, as she picked up her fifth foul midway through the fourth quarter.
Bonner Springs jumped out to a 12-7 lead at the end of the first quarter, but the Chieftains opened the second with four quick points to get back within one score. THS briefly took a 23-22 lead in the final minutes of the first half, but the Braves closed out the quarter with five straight to take a 27-23 lead into the break.
THS will play second-seeded Atchison (15-6) at 6 p.m. Saturday at THS for a trip to next week's state tournament in Salina. AHS, which handed the Chieftains a 70-66 defeat in a regular season meeting on Jan. 25, reached the title game with a 59-47 win against Piper in Friday's other semifinal.
"We've got to get a lot of rest tonight and come in to our shoot-around tomorrow focused in," Whitledge said. "That's what we've got to do is focus. We all have to be on the same page because, honestly, we can't do it without our teammates. I'm really leaning on them right now."
Score by quarter
Tonganoxie 7 16 7 11 8 — 49
Bonner Springs 12 15 7 7 4 — 45
Individual scoring
TONGANOXIE — Jenny Whitledge 6-12 3-7 15, Emily Soetaert 5-12 0-4 13, Madee Walker 2-6 2-4 8, Hannah Kemp 0-4 7-10 7, Katelyn Waldeier 2-7 2-5 6.
BONNER SPRINGS — Haley Hoffine 5-11 2-4 14, Anna Deegan 4-16 0-2 9, Kaleigh Taylor 3-6 1-2 8, Kennedy Bizzell 2-3 0-1 4, Abrise Sims 2-6 0-0 4, Mikaela Bennett 1-2 1-2 3, Julianne Jackson 1-7 1-2 3.