SEE

YOU

IN

SALINA

:

THS

girls blast Atchison to earn state bid
Chieftains win first sub-state title since 2007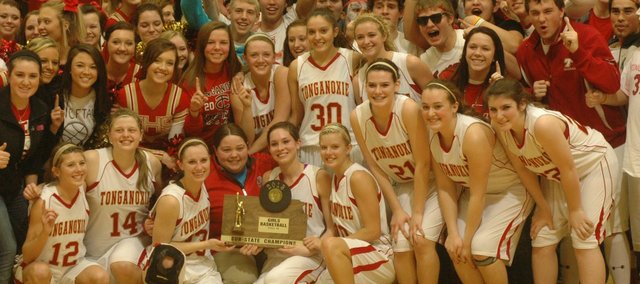 4A STATE QUALIFIERS
Wamego, 22-1
McPherson, 19-3
Paola, 18-4
Fort Scott, 17-5
Clearwater, 16-6
Tonganoxie, 15-7
Labette County, 15-7
Pratt, 14-9
As the old saying goes, "revenge is a dish best served cold." If that's really the case, the Tonganoxie High girls must have spent the last few nights out in the snow.
For the second straight day, the Chieftains avenged a regular season loss against a higher-seeded team. For the second straight day, they ended a multi-year streak in the process. This time, though, the reward was much, much bigger.
For the first time in six years, they're going to state.
Fourth-seeded THS won its first sub-state championship since the 2006-07 season Saturday on its home floor with a 62-36 drubbing of second-seeded Atchison. In addition to punching their state ticket, the Chieftains (15-7) also got revenge for a 70-66 loss they suffered on Jan. 25 at AHS (15-7).
"This means everything," coach Randy Kraft said. "In these last five or six games, they've figured out how to play together. They've done a great job of that, so I'm really proud of them."
Less than 24 hours removed from an overtime win against top-seeded Bonner Springs, Kraft's squad raced out to a 19-10 lead after one quarter in Saturday's title game. THS kept its foot on the gas in the second and extended its advantage to 14 at the break, 30-16.
It looked as though Atchison would go down without a fight when the margin grew to 19 midway through the third quarter, but the visitors responded with a 12-2 run to get back within nine with 7:30 left in the game.
That's as close as it got, though, as the Chieftains outscored their opponent by a 23-6 margin the rest of the way.
"We had a couple of our key players on the bench during that time and (Atchison) came with a little more pressure, so we had a couple turnovers," Kraft said. "During that late stretch, we got a few inside looks and hit a couple wide open shots from the outside."
Fans joined the Chieftains on the court as they were presented with their sub-state championship trophy after the game.
The THS defense allowed less than 40 points for the fifth time in six games. Atchison shot nearly 50 percent from the floor in the teams' last meeting, but shot just 30 percent (15-of-50) in Saturday's rematch.
"We knew we had the potential to do it," Emily Soetaert said. "It was just a matter of coming together and playing as a team, and we did that. We started working harder in practice and really working on our defense, and that helped us a lot."
Offensively, the Chieftains shot 48.8 percent (21-of-43) and went 16-of-22 from the free throw line. They went just 14-of-30 from the stripe in Friday's semifinal win against Bonner Springs. Jenny Whitledge led the way Saturday with 23 points and 13 rebounds — both game-highs — while Soetaert added 14 points.
Arika Smith and Madison Sanders led Atchison with 15 and 10 points, respectively. That same duo combined for 43 points in the AHS win back in January.
THS is the No. 6 seed in the state tournament and will open against No. 3 Paola (18-4) at 8:15 p.m. Thursday at the Salina Bicentennial Center. The winner will advance to the semifinal round, where it will play either No. 2 McPherson or No. 7 Altamont-Labette County at 6:30 p.m. Friday.
In the meantime, though, the Chieftains are happy to sit back and enjoy the ride.
"This is the greatest feeling ever," Whitledge said. "I owe it all to my team. Without them, we wouldn't be there, but I think this is the greatest feeling I've ever had in my four years."
Score by quarter
Atchison 10 6 10 10 — 36
Tonganoxie 19 11 9 23 — 62
Individual scoring
ATCHISON — Arika Smith 5-13 5-7 15, Madison Sanders 5-16 0-0 10, Alyson Weber 3-8 0-0 7, Marianna Markou 1-1 0-0 2, Laurene Cushinberry 1-3 0-0 2.
TONGANOXIE — Jenny Whitledge 8-13 7-8 23, Emily Soetaert 6-9 0-0 14, Katelyn Waldeier 3-10 1-6 7, Madee Walker 1-2 4-4 6, Sarah Ahart 1-2 4-4 6, Hannah Kemp 2-6 0-0 6.