Pope, Adams sign with
KCKCC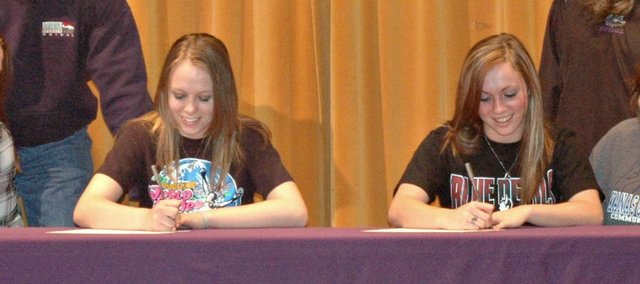 McLouth — Last week, McLouth High seniors Taylor Pope and Alex Adams finally achieved three-year-old goals when they signed national letters of intent to play softball in college. To make matters better, they guaranteed they'd be making the journey together.
Pope and Adams made that vision a reality Friday at MHS when they signed with Kansas City Kansas Community College.
"It feels really good," Adams said. "I didn't realize how relieved I'd be after I did it, but I'm really relieved to finally get it over with."
The Bulldog seniors — McLouth's 19th and 20th softball signees since 2006 — have both played pivotal roles in recent years. Adams started each of the last three seasons in the infield — most recently at second base — while Pope has started the last two as a catcher and outfielder.
With the ink now officially on the paper, Adams, who made a key double play to send MHS to the Class 3A state tournament in 2011, has her sights set on a return to the season's biggest stage in May. The team just missed the state cut last season, falling to Silver Lake in the regional championship game.
"I think we're a strong team, so I think we're play strong this year," she said. "What I'm hoping for is to end as strong as we can and just to play with everything we have."
Pope will resume catching duties after battling a broken thumb late last season. She moved to the outfield while nursing the injury and will likely see time at both spots in 2013.
The duo will see a familiar face when they join the KCKCC program next year, as 2012 MHS grad Emily Welsh also signed with the Blue Devils.
"Knowing that I have people there that I actually know helped me make the decision," Pope said. "I know I'm not the only one."
KCKCC opened its 2013 schedule on Feb. 21 at North Central Community College in Trenton, Mo. Pope and Adams join Fort Scott Community College signee Marissa Raya as 2013 seniors to sign with college programs.
The Bulldogs, now a Class 2A team will open their season March 28 at home against Perry-Lecompton.
"We just have to try hard," Pope said. "Everybody has the talent to make it, but we just need to stay focused on what we need to do to get (to state)."