Snowstorms keep crews busy, cause several cancellations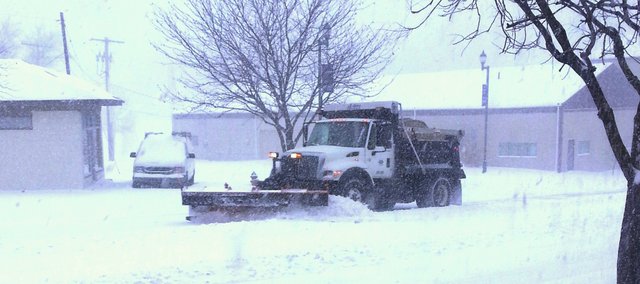 The calendar soon will turn to May, but local residents were reminded that it's still winter in Kansas the past two weeks.
Tonganoxie city crews cleared streets in back-to-back weeks as roughly 11 inches of snow accumulated the first snow and 10 the second.
City Administrator Nathan McCommon said public works officials used about 40 tons of salt and sand for the first storm and another 20 tons for last week's storm. He said 30 tons each of salt and sand were used to treat roads. He said the 40 tons for the first storm was about average in usage for a winter storm.
Tonganoxie, Genesis Christian Academy and McLouth officials called off school for two days each week. Tonganoxie USD 464 Superintendent Randy Weseman said the district has exhausted its number of built-in snow days and now will have classes on inservice day Friday, March 15.
The inclement weather also forced postponements of the first round of substate basketball tournaments for both Tonganoxie and McLouth. Teams were able to finish the tournaments Saturday, with the Tonganoxie High School girls team advancing to state with its victory Saturday in Tonganoxie.
Tonganoxie City Council rescheduled its Feb. 25 meeting to Wednesday, Feb. 27, because of the anticipated weather; Tonganoxie Community Historical Society canceled its Feb. 26 monthly meeting and presentation altogether.
The second storm appeared to cause more problems than the first, as a few areas of the city were without power for part of the day. A portion of a tree also fell into a street, but public works department crew members were able to remove it.
McCommon said the city's snow removal policy dictates that crews plow arterial streets first before clearing connector streets — Fourth, Pleasant and Main streets, as well as North Star Court, Woodfield Drive, Laming Road and Stone Creek Drive. From there, neighborhood streets are cleared.
As for sidewalks, property owners are responsible for clearing the sidewalks in front of their homes and businesses, McCommon said.
Of course, if the area experiences more storms like in the last week, McCommon encourages residents to not venture out.
"We just encourage people to stay in if the weather's too bad. Don't risk it," McCommon said. "It took us a day to clear out the snow on Thursday (Feb. 21). I sympathize with those who had to get out.
"If they don't have to go out, I'd say don't and let the city crews get a chance to clear them (the streets)."
The Leavenworth County Sheriff's Office reported that it responded to 10 non-injury accidents and multiple slide-offs during the first storm.
During the Wednesday, Feb. 27, City Council meeting, Tonganoxie Mayor Jason Ward praised the public works department for its efforts.
"With the tremendous burden of the last week, the crews have done an exceptional job," Ward said. "All worked long hours and away from their families and to serve their community and we appreciate it."