THS

girls fall to Paola in state opener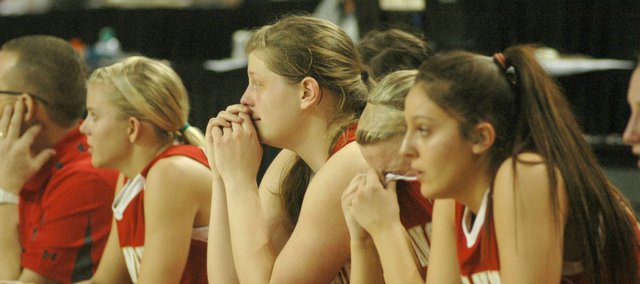 Salina — Perhaps Tonganoxie High senior Hannah Kemp described this one best with one simple word: Different.
Slow starts, missed shots and defensive breakdowns haven't been common occurrences for the THS girls in recent weeks. However, all three played a role in the team's 55-38, season-ending loss to Paola in the first round of the Class 4A state tournament Thursday in Salina.
After shooting better than 45 percent in their three sub-state games last week, the sixth-seeded Chieftains (15-8) came out cold in their state opener. They went just 2-of-12 for six in the first quarter. The third-seeded Panthers (18-4) took advantage of the offensive lull, jumping out to a 17-6 lead at the end of the opening period.
"We knew coming into the game that they were going to run a really fast-paced game," Kemp said. "We needed to try and keep our composure and slow it down. I think they got on that roll and it just kind of rocked us back at first."
Things got worse in the second quarter, as PHS gradually extended its lead to 20 points. The Panthers went a combined 6-for-8 from beyond the three-point arc and took a 34-14 lead into the locker room at halftime.
"That shook our confidence a lot and we never regained it the whole first half," coach Randy Kraft said. "They penetrate the ball pretty well, and we just weren't getting off the help and playing out on it quick enough like we had in the past."
Paola's 34 first-half points were more than the full-game average of the Chieftains' last six opponents (31.8). The offensive struggles also continued for Kraft's squad, which shot just 6-of-30 in the first two quarters.
The one-sided affair turned into a seesaw battle in the second half, as the teams traded blows for the duration of the third and fourth quarters. THS finally found some offense, but wasn't able to mount a comeback, as Paola's lead never shrunk to less than 14 points.
The Chieftains hung tough the rest of the way, though, which prevented the Panthers from turning the game into a blowout down the stretch.
"As much as it really hurts to lose in the first round, I'm proud of the way the girls came out and played the rest of the game," Kemp said. "We could have just given up and let them roll us over, but we kept fighting. It shows that we have a lot of heart."
As a team, Tonganoxie went just 16-of-58 from the floor and 4-of-15 from the free throw line. The Panthers' 55 points tied for the second-highest total allowed by the Chieftains all season.
Senior Jenny Whitledge wrapped up her career with a double-double, scoring 15 points and pulling down 14 rebounds — both team-highs. Junior Emily Soetaert joined Whitledge in double figures with 12 points. Lyndsee Johnson and Taylor Williams led Paola with 18 and 10 points, respectively.
The loss marked the final career game for Kemp, Whitledge and Madee Walker. It also marked the Chieftains' first state appearance since the 2006-07 season. THS will return two starters and two key reserves next season, as well as several players who saw varsity time in 2012-13.
Perhaps more importantly, though, all returners will have the state tournament fresh in their minds.
"Hopefully, they've got the taste in their mouth and they want it," Kraft said. "It's going to come through hard work this summer."
Score by quarter
Tonganoxie 6 8 12 12 — 38
Paola 17 17 10 11 — 55
Individual scoring
TONGANOXIE — Jenny Whitledge 7-14 1-6 15, Emily Soetaert 4-10 2-5 12, Katelyn Waldeier 2-8 1-2 5, Madee Walker 2-9 0-0 4, Hannah Kemp 1-10 0-2 2.
PAOLA — Lyndsee Johnson 6-15 4-4 18, Taylor Williams 4-8 0-1 10, Remick Paulsen 4-5 1-3 9, Morgan Lauden 3-7 3-5 9, Kaylee Farmer 1-5 4-4 6, Kelsey Slawson 1-1 0-0 2, Tiana Moala 0-5 1-2 1.