THS

has been right at home in postseason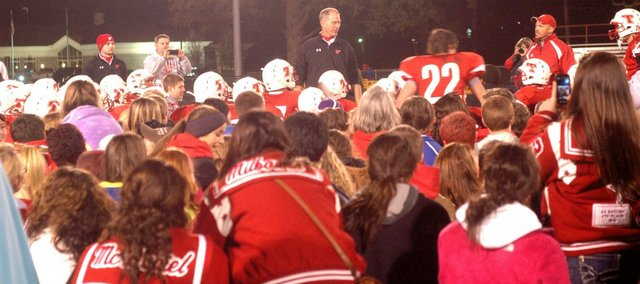 Notable postseason wins by Tonganoxie as host school (Since 2012)
Call it fate. Call it luck of the draw. Call it whatever you want, but in the last 12 months, it's been undeniable. Postseason success has come early and often for Tonganoxie High sports programs, and more often than not, it's happened right here at home.
Since the start of the 2012 spring semester, the Chieftains have hosted at least one postseason event in nine different sports or activities. During that span, THS has added plenty of hardware to its trophy cases, including a state title in four-speaker debate, regional titles in boys soccer, girls soccer, wrestling and golf, a sub-state title in girls basketball and a bi-district title in football.
Each of those accomplishments, and many more along the way, happened in the venues Chieftain athletes call home. Perhaps more importantly, though, they happened in front of home crowds.
"It's the home-court or home-field advantage," THS athletics director Brandon Parker said. "This is where you play and practice. We always hope we get good fan support since they don't have to go anywhere, and you don't have to worry about kids getting on buses. You're pretty much in your regular routine, so there is a comfort level that factors into team success."
In this academic year alone, Tonganoxie has been selected by the Kansas State High School Activities Association as a host school for Class 4A sub-state volleyball and basketball tournaments, a 4A regional wrestling tournament and the 4A and 3-2-1A state debate tournaments.
All four programs also have home tournaments during the regular season, meaning many involved parties worked double duty this season.
"For any of them to run smoothly, it's a total group effort," Parker said. "It isn't one person by any means. Everyone plays a huge part in it. Whether it be our staff, district people or community people, the way that they get involved makes a huge difference in how people feel about Tonganoxie when they come here."
The wrestling and debate tournaments were firsts at THS, which has now served as a host for every possible postseason event since 2002.
It's unlikely that Tonganoxie will be selected as a postseason host for any spring tournaments, but according to Parker, that won't be a result of negative feedback.
"I think people really enjoy coming here," he said. "They get the competition they want, and they're also taken care of. It's almost overwhelming that they're very pleased when they're here because of how they're treated."