Bailey to continue softball career at
KCKCC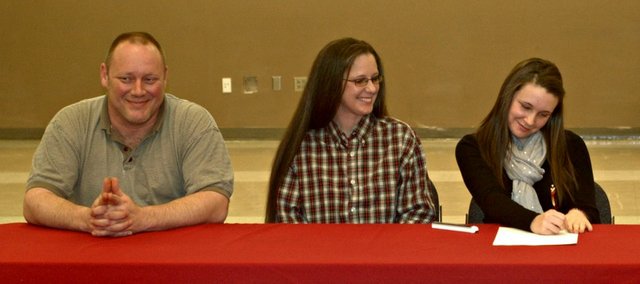 Savannah Bailey may have turned 18 on Monday, but the Tonganoxie High senior was still celebrating two days later.
With family, friends, coaches and teammates watching Wednesday in the Chieftain Room, Bailey guaranteed her softball career would continue past 2013 when she signed a national letter of intent with Kansas City Kansas Community College.
Bailey saw significant varsity innings in center field last season on a team loaded with seniors. Perhaps her biggest play of the year came in the team's regional opener against Atchison when she made a diving catch to strand two base runners in an eventual 5-3 win.
She'll assume starting duties at the same position this season and try to help the Chieftains improve on their 7-15 record from a year ago.
"It's really relieving since I can definitely focus more on the season now," Bailey said. "I definitely want to end this season on a good note. I just want to have a good experience and try the hardest we can."
Bailey said she was interested in the nursing program at KCKCC, then got in touch with the softball coaching staff on a recommendation from fellow THS senior Maggie Wells. She won't be the only Chieftain graduate to don a Blue Devil uniform next year, as 2012 alum Amanda Holroyd is also a member of the team.
THS will open its 2013 season March 25 at home against Bishop Ward.
"I've had the privilege of coaching Savannah in JV softball, and I'm so excited to get to coach her again at the varsity level," said first-year varsity coach Stephanie Wittman. "She had some good innings last year for the varsity, and I'm excited to see her get better as a player and, more importantly, as a person and a teammate."