Going green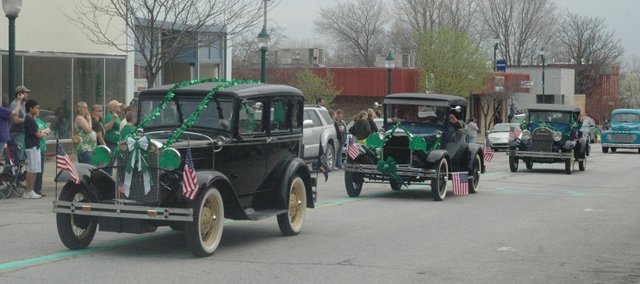 A volunteer group has found that it's not too tough continuing to be green for this year's Tonganoxie St. Patrick's parade, which marks the 25th year of the annual event.
The Tonganoxie Chamber of Commerce in the past had organized the event, but with some reorganization within the chamber during the past year, board members opted not to spearhead this year's event.
However, some local business owners and volunteers formed a group to keep the tradition alive.
Davo Howe, owner of the Coffee Depot, organized planning meetings and Team Clover was established to help the St. Patrick's festivities move along. The group consists of downtown business owners and other volunteers.
"I heard it was canceled, so I just took it upon myself to create an organization to head a committee so we could actually have a St. Patrick's parade," Howe said.
The parade will start at 10 a.m. Saturday with the McCaffrey family serving as this year's Grand Leprechauns. John Lyman McCaffrey helped establish the Tonganoxie St. Patrick's parade and was instrumental in organizing several of the annual parades. McCaffrey died in 2002.
The children's zone will begin in the Midwest Carpet parking lot near Fourth and Main between 10:15 a.m. and 10:30 a.m. Inflatables and children's games will be available in that area.
Sarah Breuer, owner of the Downtown Drugstore, 516 E. Fourth St., said about 15 floats have registered and she hopes for more in the days leading up to the parade. Green T-shirts that read "Kiss Me, I'm from Tonganoxie" also can be purchased at the drugstore this week.
She has hopes that this year's group of volunteers will keep the event going for years to come.
"I think many of the people involved this year are committed to making sure this tradition continues in Tonganoxie," Breuer said.
Anyone venturing downtown for the festivities Saturday should come hungry.
The Tonganoxie Youth Football first-grade team will have a pancake and sausage breakfast from 7:30-10 a.m. at the Ratliff Drugstore at Fourth and Bury streets. The all-you-care-to-eat meal is $5 for adults and $3 for youths younger than 10.
There also will be a Tonganoxie PEO beef and cabbage dinner from 10:30 a.m.-12:30 p.m. at Tonganoxie United Methodist Church, 328 E. Fourth St. Other activities are a scavenger hunt throughout downtown and cow patty bingo near Fourth and Main.
Bingo will start at the beginning of the parade. Howe said he hopes the cow takes care of business and a winner is determined earlier this year.
"Last year it took four hours," Howe said.
The winner of bingo will win half of the raffle money, with the other half going to Team Clover to help cover costs for future St. Patrick's parades.
Squares for bingo can be purchased and registration for the scavenger hunt handled at The Coffee Depot/Vintage Soap and Bath, 626 E. Fourth St.
Howe said he's looking forward to the 25th installment of the parade.
"I think this will be something we will be able to do every year," he said. "It's unfortunate it was taken over at the last minute. All we can do is hope for the best."