Incumbent wants to continue work on new school, curriculum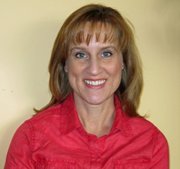 Tonganoxie USD 464 is in the middle of planning for a new elementary school.
School board president Kris Grinter has been a part of that process and wants to continue on that path.
Grinter is seeking re-election for position 6. She faces challenger Michelle McGhee in the April 2 general election.
"I just want to continue the work I'm doing right now with the bond passing and everything rolling with that," Grinter said. "It would be really nice to see that completed."
Grinter said there still was work to do in planning for the new school, which is expected to be completed in 2015. Voters approved the $27.2 million bond issue this past November.
"I've worked hard, along with a lot of other people, to get this school bond passed," Grinter said. "With that goal accomplished, I'd really like to be around to see that the school is everything that our community, teachers, and kids want it to be.
"It needs to be done correctly. I'm looking forward to continue to work with members of the community on accomplishing that goal."
Grinter said another top goal is upgrading the high school curriculum. She said students need to be more prepared for college or joining the work force immediately after high school, whichever they choose.
"We really need to ramp up our academics. Having a child that has completed high school, and another one currently in the high school, I can appreciate that we can do better … I think that we are in a really good place right now to make that happen," Grinter said. "I can't stress how important this is to me."
Grinter's oldest daughter, Sidney, is in her first year at Kansas University. Grinter and husband, Ted, have a second daughter Callie, who is a sophomore at THS.
Grinter, 44, grew up in St. Joseph, Mo. She attended Missouri Western State College as an accounting major before graduating from KU with a degree in art illustration/graphics. She is bookkeeper at Jim Grinter Farms near Tonganoxie.