New-look softball team must replace five 2012 departures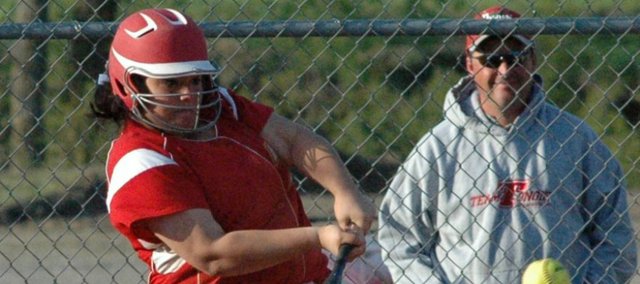 THS softball schedule
April 4, at Mill Valley
April 9, at Turner
April 11, vs. Basehor-Linwood
April 17, at Piper
April 23, vs. Perry-Lecompton
April 25, at Lansing
April 26, at Spring Hill
April 29, vs. Bishop Ward
May 2, at Bonner Springs
May 6, vs. Baldwin
May 13-16, at Regionals
When the Tonganoxie High softball team takes the field in 2013, hardly anything will be the same. However, a new coach and new lineup have hardly put a damper on the excitement as the season approaches.
The new-look Chieftains will soon open their first season under coach Stephanie Wittman, but they won't have to spend much time getting to know their new varsity leader. Wittman spent the last two seasons as the junior varsity coach and also worked with several players as a volleyball and basketball coach in the offseason.
"I've been around the girls, so there's not many new faces," Wittman said. "It's definitely a new situation for me and the whole softball team, but I think everybody is excited about where we're headed."
Wittman's squad must fill gaps left by five members of the 2012 graduating class. Among last year's seniors were All-State second team selection Kailan Kuzmic, a first baseman, and All-KVL honorable mentions Amanda Holroyd (shortstop) and Haley Smith (outfielder). All three players hit better than .300 last season and combined for 44 runs batted in. Also gone are starting catcher Makayla Leslie and reserve outfielder Maggie Gripka.
Current seniors Savannah Bailey, Jaycee Knipp, Shelby McDaniel and Teal Waters will try to help the team improve on its 7-15 record from a year ago. The cupboard is hardly bare, though, as the 2013 team returns five players who saw significant varsity time last season, as well as a group of underclassmen who could make an immediate impact.
"We have a few new freshmen on varsity who I think are going to do really well," McDaniel said. "Everyone is really adapting to their new positions since a lot of girls are moving around, but everyone is doing really well."
Junior Lainy Walker, a regular at third base last season, will move behind the plate. She and fellow junior Caly Ingle-Maxwell, another returning starter, will anchor the infield. Others vying for infield spots are McDaniel, Waters, Knipp and junior Morgan Oroke. Oroke is the team's top pitcher, but will also see time at third base.
When Oroke isn't in the circle, the Chieftains will look to freshman Sammi Bates. Wittman praised Bates' abilities as a pitcher despite her lack of varsity experience.
"We're looking for (Bates) to play some significant innings at the varsity level," she said. "She can throw the ball."
Senior and Kansas City Kansas Community College signee Savannah Bailey returns as the team's most experienced outfielder. She and junior Marissa Martin will occupy two spots, while Bates and fellow freshmen Kaitlin Hall and Halley Calovich will vie for the other.
THS will open its season at 4 p.m. Monday with a home doubleheader against Bishop Ward. The Chieftains swept the Cyclones in last year's season opener.
"I think what we're looking for in the first game is, in every rep that we take, we want to bring more competitive energy," Wittman said. "We have to come out competitive and have a little fun, but have a little pride in Tonganoxie softball."