Chieftain baseball aims to add pitching depth, utilize veterans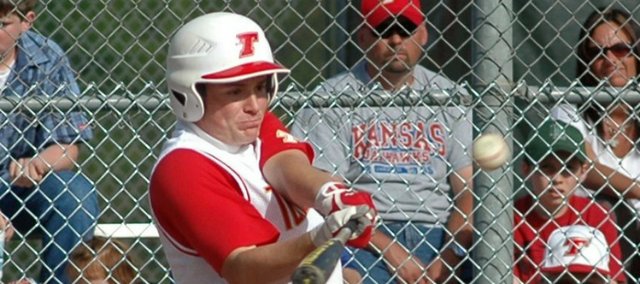 THS baseball schedule
March 28, vs. Basehor-Linwood*
April 2, at Jeff West*
April 4, at Mill Valley*
April 8, at Turner*
April 9, vs. Lansing
April 17, at Piper*
April 23, at Lansing
April 25-27, at Butch Foster Classic
April 29, vs. Bishop Ward*
April 30, vs. Baldwin
May 2, at Bonner Springs*
May 13-16, at Regionals
*Indicates doubleheader
Underclassmen will once again make up a good portion of the Tonganoxie High baseball team's lineup in 2013. However, unlike last year, that youth won't necessarily translate into inexperience on the diamond.
This year's Chieftains will open the season next week with a roster full of players who played in significant varsity innings during last year's 5-16 campaign. Brett Shelton and Cody Saladin are the only two seniors who saw extended varsity time last season, but many of this year's underclassmen got their first taste of varsity action as freshmen and sophomores in 2012.
"The speed of the game isn't going to be a shock for us this year," coach Mitch Loomis said. "I think we're still young and undersized, but going in, we'll know what varsity baseball is about. We'll be pretty experienced with at least seven or eight positions."
There may not be many question marks throughout the defensive lineup, but Loomis must fill two voids left on the pitcher's mound. Tyler Freeman and Austin Harkrader, both members of the 2012 graduating class, accounted for more than half the team's innings pitched last season and ranked second and third in earned run average, respectively.
Junior Travis Woods headlines the list of returning pitchers after receiving an All-Kaw Valley League honorable mention in 2012. Woods held opponents to a .223 batting average over 31.2 innings and finished the season with a team-best 4.20 ERA. Sophomore Justin Wagner will occupy the No. 2 spot, and Loomis hopes to find at least one more player capable of throwing more than just fastballs.
"I hope we can be really solid with (Woods and Wagner), but other than that, finding a guy who can put multiple pitches over the plate for strikes is going to be the big thing," he said.
Shelton, Saladin, junior Shane Levy and sophomore Connor Wentz-Hall also pitched varsity innings last season. Junior James Grizzle, a new addition to the team, could also see time on the mound.
Levy, an outfielder, returns as the team leader in nearly every offensive category. He hit .446 last season with 25 runs batted in, nine doubles, four triples and three home runs. No other returner drove in more than six runs a year ago — a stat Loomis said needs to change in a hurry.
"Everybody is going to know about Shane, so I think he's going to get pitched around a lot," he said. "We've got to find guys that are going to pick up the RBIs for him. Limiting strikeouts is going to be big for us this year. It shouldn't be anything new to the guys."
Levy also returns as the team's most experienced outfielder. Grizzle, sophomores Ty Hampton, Colton Weaver and Thomas Minor and freshman Tyler Novotney will vie for spots left open by Freeman and Harkrader.
There won't be as much uncertainty on the infield, but THS will be without the services of 2012 grad Ben Williams, who saw time at third base and shortstop. Shelton, Saladin, Woods, Wentz-Hall and sophomore Brady Swedo all started in the infield last season. Swedo was the team's primary catcher.
The Chieftains will open their 2013 campaign at 5 p.m. Monday at home against perennial state contender Bishop Ward.
"We've got a lot of young guys coming up, but we've just got to stay fundamental," Shelton said. "If we stay fundamental and play our game, we should be fine."