Despite key losses,
THS

golf focused on more success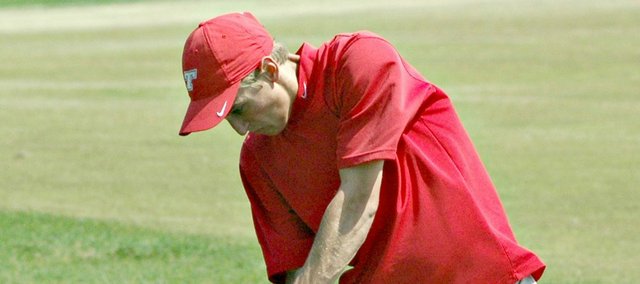 THS golf schedule
March 30, Sunflower Classic
April 3, Mill Valley Invitational
April 8, Lansing Invitational
April 15, Hayden Invitational
April 18, Spring Hill Invitational
April 19, Wichita Collegiate Invitational
April 25, Atchison Invitational
April 29, Ottawa Invitational
May 2, Junction City Invitational
May 8, KVL tournament
May 13, Regionals (TBA)
Over the last three years, the Tonganoxie High golf team has raised its standards, to say the least. Since winning its first-ever team title in 2010, the Chieftains have reeled off three straight top-five finishes at state, including back-to-back runner-up finishes in 2011 and 2012.
Many key contributors to the program's rise are now gone, but with three state veterans still on the roster, the foundation is already laid for even more success in the not-too-distant future.
Seniors Aaron Williams and Tyler Hall and junior Drew Sandburg headline a THS team out to prove in the coming months that it, too, can be discussed as one of the school's best.
"Most people aren't expecting Tongie to be that great this year, but we believe we can be really good from the start," Hall said. "We're going to try to show some leadership and show (the new golfers) the right things to do. We'll just help them along the way and give them whatever pointers they need."
All three golfers return with two state tournaments under their belts. The trio helped THS to its first-ever state trophy in 2011, then got the Chieftains within one stroke of a state title last season.
Sandburg enters the season in team's top varsity spot. He was second on the team last year with an 81.7 stroke average. He recorded five top-10 individual finishes, including a season-low 72 at the Kaw Valley League meet. Williams will occupy the No. 2 spot after finishing last year with an average of 83.4. His only top-10 finish came at Atchison, where he shot a season-best 76. Hall, who carried an 87.4 average with two top-10 finishes in 2012, checks in at No. 3.
Senior Zack Tallent and junior Austin Harris are currently fourth and fifth, respectively. Meanwhile, senior Conner Kietzmann, juniors Isaac Jones and Nathaniel Laundy and sophomore Ben Clark are vying for the final varsity spot.
"The good thing about our new guys is they're not young guys," coach Jared Jackson said. "They haven't done it themselves, but they've seen how the top guys practiced and they've been around it for two or three years. They just have to step in a new role. We have some real potential to do some good things."
Experience aside, Jackson must replace three 2012 seniors, including the top golfer in program history in Colby Yates. Yates won seven individual championships last season, including the school's first individual state title.
Fellow 2012 grads Tanner Hale and Kody Campbell combined for eight top-10 finishes in 2012, and both placed at the state tournament.
"We're just focusing on getting better each day and not worrying too much about where those holes are," Jackson said.
The Chieftains were scheduled to open their 2013 schedule last week at the Sunflower Classic at Sunflower Hills Golf Course in Bonner Springs, but the tournament has been postponed until Saturday. THS has won its home tournament in each of the last three seasons.