THS

track and field will rely on jumpers, throwers in 2013
Spots up for grabs in running events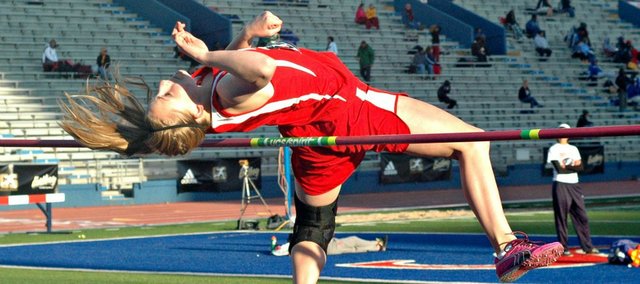 THS track and field schedule
March 28, Ottawa Invitational
April 5, Bobcat Relays
April 12, Tonganoxie Invitational
April 18, Eudora Invitational
April 26, De Soto Invitational
May 3, Shawnee Mission North Relays
May 3, Piper Invitational
May 8, KVL meet (Mill Valley)
May 17, Regionals (TBA)
Pesky snowfall and low temperatures have made for a less-than-ideal start to the 2013 track and field season at Tonganoxie High, but as the mercury in the thermometer gradually continues to rise, so does the enthusiasm surrounding Beatty Field.
After spending several days within the confines of the school gymnasium, the Chieftains have finally made it outdoors to prepare for their season opener at Thursday's Ottawa Invitational.
"It finally feels like track season," boys coach Scott Peavey said. "With that first week and a half with two snow storms, it was tough on the kids. You can focus on technique, form and core strength (in the gym), but you're kind of limited in your options when you have four spring sports competing at the same time. It's just great to get out here."
Peavey's boys squad lost its only three state qualifiers from a year ago in 2012 grads Tyler Stockman (discus), Patrick Rachford (3,200-meter run) and Dylan Jacobs (high jump). However, with several veterans still on the roster — particularly in field events — there is room for optimism.
Juniors Cody Snyder and Clayton Neas return as state hopefuls in the shot put and discus. Snyder took 13th in the shot put and Neas 13th in the discus at last year's regional meet, but they enter the 2013 season with bigger goals in mind.
"Hopefully, we can get as much momentum as we can," Snyder said. "We're trying to get to state, and me and (Clayton) want to go 1-2-3 all the way in every event. Hopefully we can find someone to pick up third place."
Senior Seth Ahart and sophomore Devan Smith also have state ambitions after just missing the cut last season. Ahart fell one spot short of a state bid with a fifth-place finish in the pole vault, while Smith took fifth in the high jump.
The graduation of the 2012 class leaves several spots up for grabs in both sprint and distance events. Among the THS returning runners are juniors Evan Stilgenbauer and Maleak Gibson.
Top finishes won't be a priority when the team opens its season Thursday. Instead, the Chieftains will focus on laying a foundation for success at future meets.
"It's always the ultimate goal to get to the state level, but the team goal is to peak in April and May," Neas said. "These few meets are just build-ups for what's to come. By that time, we should be ready to roll."
On the girls side, THS must replace just one 2012 senior in thrower Makayla Sample. Senior Jenny Whitledge and junior Haley Griffin headline the list of returners after finishing first and second, respectively, in the high jump at state. The duo occupied the top two spots in nearly every meet last season.
"(A strong start) is super important for us because we have a reputation to uphold," Griffin said. "For everyone else, I hope it just inspires them to do well also. Hopefully we can get more people to go to state."
Whitledge is the two-time defending state champion in the high jump. She also qualified for state last season in the long jump, 100-meter dash and 300-meter hurdles. She is the school record holder in all four events. Griffin is a two-time top-10 state finisher in the high jump. Sophomore Jackie Whitledge joins Jenny as a returning state qualifier in the long jump.
Seniors Hannah Kemp, Bobbi Jo Kissinger, Holley Thompson and Rachael Washington will also vie for state bids in their final season. Kemp came close to a state bid in the javelin with a sixth-place finish at regionals. Kissinger, a University of Saint Mary signee, took ninth in the javelin and 10th in the discus. Meanwhile, Thompson finished ninth in the discus and Washington 17th in the shot put.
"Experience is a pretty big deal," girls coach Chris Weller said. "These kids have been doing this for four years now. They all placed pretty well at league and several of them placed at regionals. I'm just hoping they can build on that and maybe make it to state."
Like the boys team, the girls will open the season with several question marks in running events. Sophomore Tressa Walker enjoyed some success in distance events last season, but there will be several voids to fill when the season begins.
As a team, the girls finished at or near the top of several meets last season, but lack of numbers could make that a tougher feat to accomplish in 2013. The team had just 20 girls out last season and, according to Weller, could field an even smaller roster this year.
"We're going to score some points in quite a few events, but as far as the team standings, it's going to be really tough to win track meets since we don't have 100 kids," Weller said. "We only have a pot so big to pick from."
The Chieftains will host the Tonganoxie Invitational — their only home meet of the season — on April 12.