Chieftain soccer team out to replicate 2012 success
THS

returns seven starters from state team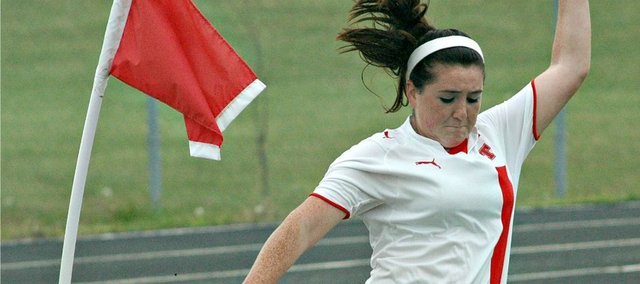 THS girls soccer schedule
March 25, vs. Bonner Springs*
March 28, vs. Spring Hill
March 29, vs. Lansing
April 1, at Mill Valley
April 4, vs. De Soto
April 8, vs. Piper
April 9, at Bishop Ward
April 15, vs. Baldwin
April 17, at KC Christian
April 22, at Spring Hill
April 26, at Baldwin
April 29, vs. Washington
May 1, vs. Basehor-Linwood
May 2, at Ottawa
May 7, at Basehor-Linwood
May 13-18, at Regionals (TBA)
*Postponed until later date
The 2012 season was one of firsts for the Tonganoxie High girls soccer team. One year later, the Chieftains are ready to prove none of those firsts were flukes.
THS returns a large core of players from last year's 10-10-1 squad that won its first-ever regional title and made its debut in the state semifinals. With seven starters and multiple key reserves back in 2013, the team is out to show it can raise the bar even higher.
"At the end of (last) season, we decided it was time to start being a family," said senior Molly Welsh, a 2012 All-Kaw Valley League first team selection. "We knew we could win if we all pulled together. If we do that this year, we'll win more games than we ever have in the past."
Most of the Chieftains' wins came in the second half of the season, thanks in large part to an eight-game win streak. THS will look for a stronger start to the 2013 campaign after winning just one of its first eight games a year ago.
Welsh and junior Emily Soetaert return as the team's leading scorers. Each scored 11 goals in 2012. Soetaert, a second team All-Stater, tied for the team lead despite missing the first seven games of the season.
Both players saw most of their time at forward last season, but will also play midfielder in a new system being implemented by coach Justin Seever.
"We're going to try some different things this year," Seever said. "We want to take more of a college approach. We'll probably change it up game by game. Once we start playing to our strengths, we'll be pretty dangerous offensively."
Seever added the team's new formations will require most players to drop into multiple positions throughout the game.
Sophomores Emily Williams and Morgan Galvin will also see time at forward after getting varsity experience as freshmen. Galvin scored 12 goals at the junior varsity level. Emily's sister, 2012 grad Sarah Williams, is the team's only loss at the position.
Soetaert isn't the Chieftains' only All-State returner, as junior defender Aly Bartholomew also earned a second team selection last year. She'll look to anchor the THS backfield alongside seniors Kelsi Briggs and Christopher Tiner. Briggs stepped into a starting role left empty by 2012 grad Shyanne Gergick late last season. Freshman Mackenzie Price will also vie for time at defender.
Seever must replace a pair of midfielders in Lindsey Truesdell and Alyssa Miller, but returns plenty of experience at the position. In addition to Welsh and Soetaert, juniors Madison Simmons and Taylar Morgan and sophomore Megan Briggs will man the middle of the field after playing extended minutes a year ago. Simmons earned an All-KVL honorable mention as a sophomore.
Goalkeeper is arguably the team's biggest question mark after the departure of starter Emma Stilgenbauer. Stilgenbauer recorded 174 saves and four shutouts as a sophomore, but has since transferred to Bishop Seabury in Lawrence. Freshman Lauren Jackson is currently the frontrunner for the starting job, and sophomore Grace Reilly is also vying for time in the net.
"I have so much faith in Lauren because she has so much athletic ability," Welsh said. "I keep encouraging her because I know how hard it is to step into the varsity level. We're all trying to give her good advice."
The Chieftains were supposed to open their season Monday against KVL opponent Bonner Springs — a team they haven't beaten in any current player's career — but the game was postponed because of inclement weather. A make-up date has not yet been announced. The team is now scheduled to see its first action at 4 p.m. Thursday at home against Spring Hill. The Broncos swept THS in two meetings last season.
"We're still trying to figure ourselves out, but once we get a little bit of confidence and start working well together, I think we should be competitive every single game," Seever said.