McLouth softball hopes to utilize versatility in 2013
Bulldogs prepare for switch to Class 2A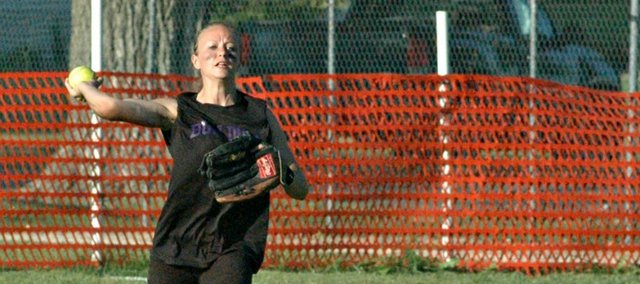 MHS softball schedule
April 4, at Immaculata
April 8, vs. Pleasant Ridge
April 11, at Troy
April 15, vs. Valley Falls
April 22, at Maur Hill
April 25, at Oskaloosa
April 29, vs. ACCHS
April 30, vs. Perry-Lecompton
May 2, at Doniphan West
May 6, vs. Riverside
May 13-16, Regionals
McLouth — After establishing itself as a premier softball program over the last several seasons, McLouth High is bracing itself for a change.
The Bulldogs, who have earned three Class 3A state bids since 2006, will try to wreak similar havoc on opponents in the 2A ranks this season. With six returning starters and a pair of freshmen looking to make an immediate impact, optimism isn't hard to find as the 2013 season approaches.
"The girls are really excited," coach Ballard Patterson said. "We're going to be very solid on defense this year. In the circle, we should be as stout as we were or better than last year, and I feel like, offensively, we're better than we were last year."
Highlighted by an 11-game win streak, MHS went 17-5 last season. However, numerous injuries plagued the Bulldogs down the stretch, as they went just 2-4 in their final six games. They just missed the state cut with an 8-6 loss to Silver Lake in a regional final in St. Marys.
But, according to Patterson, added depth and experience should help his squad avoid a similar stumble in 2013.
"They know how close they were last year," he said. "We hobbled into regionals with everything that was going on emotionally and also with the injuries we had, and we just about went (to state) anyway. This year, we're a lot deeper, and we have a lot of diversity. Kids can play a lot of different positions, so if injuries were to bite us, I don't think it would be that big of an issue."
Sophomore Angela Dailey enters the season as the team's top pitcher. She occupied the No. 2 spot behind 2012 grad and current University of Missouri-Kansas City freshman Kendra Leach. Dailey took a 0.00 earned run average deep into the season in 2012 and finished the year at 8-2. She'll split time in the circle and at first base with freshman Shannon Greene.
Seniors Alex Adams and Marissa Raya will look to anchor the infield in their final high school season. Adams will retain her starting spot at second base, while Raya, the team's starting third baseman a year ago, will replace 2012 grad Morgan Drinnon at shortstop. Raya is a Fort Scott Community College signee, while Adams has signed with Kansas City Kansas Community College.
Junior Konner Patterson, a first-team All-State first baseman last year, will take Raya's place at third. Senior Taylor Pope, another KCKCC signee, will split time at catcher with junior Amber McCowan. Pope and McCowan will also rotate at left field following the departure of 2012 senior Kelsey Campbell.
Adams, a regular in the infield since her freshman year, noted the versatility of her teammates, which will allow for multiple defensive lineups throughout season — a luxury the Bulldogs didn't have in 2012.
"That means you're pretty much at home," Adams said. "You're not at a different place and you know what to do, so that's really promising."
Freshman Dominique Tullis, whom Ballard Patterson said will likely serve as the team's leadoff hitter, will take over the starting center field spot left vacant by 2012 grad Emily Welsh — now a freshman at KCKCC. Senior Kaitlyn Tomlinson will round out the starting lineup in right field. Leach occupied that spot when she wasn't pitching last season and earned a first-team All-State selection.
The team's drop to 2A led to three schedule changes. Gone are 4A opponents Holton, Atchison and Jeff West, which went a combined 40-22 last season. That trio has been replaced by 3A opponent Maur Hill-Mount Academy and 2A schools Leavenworth-Immaculata and Highland-Doniphan West, which went a combined 13-40 in 2012.
MHS was supposed to open its season Thursday with a home doubleheader against Perry-Lecompton, but the games were postponed until April 30 because of poor field conditions. The team will open its campaign at 4:30 p.m. on April 4 with a doubleheader at Immaculata.