THS

girls soccer stumbles in season opener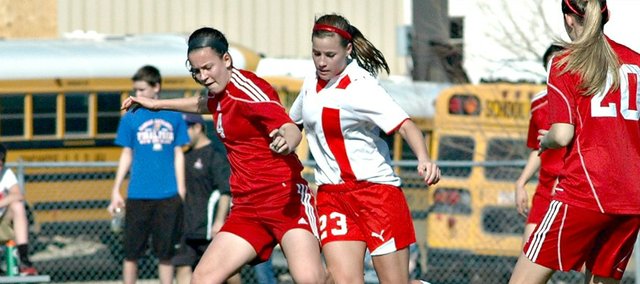 Lansing 4, THS 1
First half scoring
THS own goal, 16:01
THS own goal, 11:44
Madison Simmons (TON), 8:34
Second half scoring
Sarah Pride (LAN), 38:49
Cassie Pawlowski (LAN), 27:19
The Tonganoxie High girls soccer season finally got under way Friday against Lansing, but the delayed start didn't exactly go how the Chieftains had hoped.
Two first-half own goals set the tone early as THS dropped a 4-1 decision to its Kaw Valley League opponent at home.
The teams traded possession for most of the first half, and the Lions got on the scoreboard first when a cross by Sarah Pride ricocheted off Tonganoxie freshman Mackenzie Price and into the net with 16:01 left in the first half. The Lansing lead doubled less than five minutes later when Price tried to intercept another pass, but inadvertently kicked the ball past fellow freshman Lauren Jackson.
"That's just unlucky, honestly," coach Justin Seever said of the two mishaps. "I've never seen the ball bounce off a girl's head and go 20 yards into the goal. In the other one, (Price) was just trying to beat her girl to her spot. It's her first varsity game, and those are two of the unluckiest goals I've seen in a long time."
The Chieftains (0-1, 0-1 KVL) got one goal back when Madison Simmons found the back of the next with 8:34 remaining. Simmons got an open look in the middle of the field and floated the ball over LHS goalkeeper Kelsie Pitsenbarger. THS kept the ball on its opponent's side of the field for the remainder of the half to keep it a one-goal game.
The momentum shifted back in the Lions' favor just after intermission, as Sarah Pride broke free down the sideline and made it 3-1 less than two minutes into the second half.
"We were still playing well. We scored that goal and had all the momentum going into half, but I think they found a weakness on one side and kept exploiting it," Seever said. "We never really adjusted to it. When they scored their third goal, it kind of took the win out of our sails."
Lansing's Casse Pawlowski rounded out the scoring with a goal of her own with 27:19 remaining.
Seever's squad will face a stiff test on Monday when it travels to reigning KVL champ and Class 5A state runner-up Mill Valley. The Jaguars blanked the Chieftains in a 10-0 defeat last season.
"I think our eyes are opened up to the pace we need to play at," Seever said. "It all comes down to us being able to take a good first touch. We've got to apply it for 80 minutes. We've obviously got a pretty tough task ahead of us on Monday, but if we're team defending and we're behind the ball, there's no reason it won't be a low-scoring game."
Varsity action is set for 4:30 p.m.