Young
MHS

baseball team must replace six starters
Bulldogs will rely on large sophomore class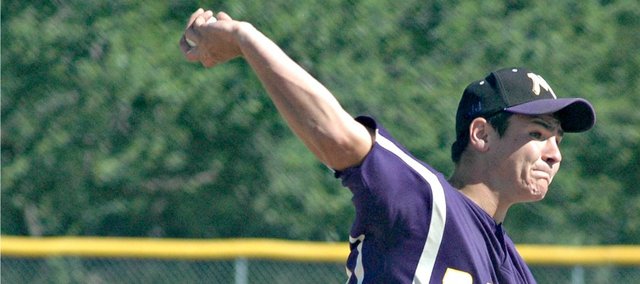 MHS baseball schedule
April 4, at Immaculata
April 8, vs. Pleasant Ridge
April 11, vs. Troy
April 15, vs. Valley Falls
April 19, vs. Wellsville
April 22, at Maur Hill
April 25, at Oskaloosa
April 29, vs. ACCHS
May 2, at Doniphan West
May 6, vs. Riverside
May 13-16, Regionals
In each of the last few seasons, the McLouth High baseball program has seen consistent improvement under the leadership of coach Kevin Stewart. Stewart is no longer with the program, but the Bulldogs are out to prove they can continue to raise the bar.
Now under the watch of former assistant Gregg Justus, MHS will field a young team set on improving on its 11-11 record a year ago.
"We lost six starters, but we had a real strong freshman class last year," Justus said. "They did get mixed into the starting lineup, so I'm looking forward to having a lot of those guys as starters this year."
The team has finally made its way outdoors after spending most of the last few weeks within the confines of the school's gymnasium. The infield still isn't in playable condition, but players have been able to do drills in the outfield.
"It's nice since we've only had like four practices outside," junior Logan Hoobler said. "Hopefully the field dries out here soon so we can play some games."
McLouth will be without five 2012 seniors in Cameron Humerickhouse, Shawn Dailey, Calvin Booth, John Berry and Matt Zule. All five were regular starters last season. Justus must also replace Mat Horton, who played in every game as a junior.
Current senior Wyatt Farris and sophomore Wyatt Hermann are the team's most experienced returners after playing in 22 and 21 games last year, respectively. The team captains will both see time at pitcher and on the left side of the infield, and Justus said he expects both to start every game. Farris joins Charlie Courtney as the team's only seniors.
Hoobler, the Bulldogs' third captain, is currently the frontrunner for the starting first base job. Fellow junior Lucas Strouhal is back after battling injuries last season and will battle for a spot in the pitching rotation. Sophomores Kevin Gann and Hunter Steffey will also serve as everyday starters, Justus said. Gann will see time at catcher and outfielder, while Steffey will rotate between the outfield and middle infield spots.
Steffey is the team's most experienced sophomore behind Hermann after playing in 10 games last season. Other sophomores with varsity experience are Hunter Ford, Sam Rainey, Hunter Ford and Jace Carlton. Ford is currently the team's top pitcher, Rainey is vying for time in the outfield and Carlton will likely be used as a utility player.
"We're going to have to mix it up," Justus said. "We have multiple guys that can come in and play different positions. There are four or five guys that will probably be the core, then I'll mix up the other guys."
Junior Robbie Taylor and sophomore Jacob Bowman are also in the hunt for varsity innings after playing on the junior varsity team in 2012. Sophomore Jack Courtney is new to the program after electing not to play as a freshman, but could have an impact in his first season.
MHS, now a Class 2A team, was originally set to open the 2013 campaign Thursday with a doubleheader against Wellsville, but poor field conditions led to a postponement. Instead, the Bulldogs will open at 4:30 p.m. on April 4 at Leavenworth-Immaculata. They swept both meetings with the Raiders last season, winning by scores of 11-10 and 9-5.
"We're hoping to compete and make the whole league better," Justus said. "Going to 2A doesn't seem to change anything going into any competition. It's just as tough."