Chieftain golfers finish second at Sunflower Classic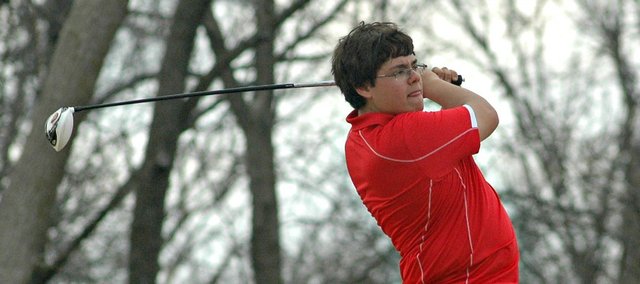 Bonner Springs — The Tonganoxie High golf team wasn't able to defend its Sunflower Classic title on Saturday, but despite battling adverse weather for much of the last few weeks, every Chieftain left the season opener with some hardware.
Every THS golfer finished in the top 15 individually and the team finished second with a score of 360 at Sunflower Golf Course. The tournament was supposed to take place on March 23, but was rescheduled because of weather and course conditions.
"It felt good to come out on what ended up being a nice day," said senior Zack Tallent, one of several newcomers on the varsity team. "We have a ways to go, but I know we can improve on that score. We've still got a lot of season left."
Tonganoxie finished 30 strokes behind tournament champion Bonner Springs, which had the top three individual scores. Lansing and Turner finished third and fourth, respectively. The tournament field usually has eight teams, but was smaller because the rescheduled date conflicted with Easter weekend. The 2012 field was comprised of St. James Academy, Bishop Ward, Mill Valley, De Soto and this year's participants.
Junior Drew Sandburg led the Chieftains with a score of 83 — good for fourth place in the individual ranks. Senior Aaron Williams joined Sandburg in the top five with an 86. Only seven golfers finished with scores lower than 90.
Senior Tyler Hall finished 11th with a 95, junior Austin Harris came in 12th with a 96 and Tallent rounded out the Chieftains' day in 14th with a 97.
"I'm not disappointed in the kids," coach Jared Jackson said. "Their effort has been there, but we've got a little room for improvement. It's probably consistency, which is an issue of needing to play more. That's why you start playing is so you can see where to make those improvements."
Jackson's squad won't have to wait long for its next competition, as it will travel Wednesday to the Mill Valley Invitational at Prairie Highlands Golf Course in Olathe. The Chieftains took third at last year's tournament.
"It's a really tough field with some good schools," Jackson said. "The kids will be challenged. All we'll look for is good days of practice on Monday and Tuesday, and then we'll go out and play our best. As long as we keep a positive attitude and get better, in the end, we should be fine."
Overall team results
Bonner Springs, 330; 2. Tonganoxie, 360; 3. Lansing, 365; 4. Turner, 449.
Top 15 individual results
Tristan Abts (BON), 77; 2. Marc McClain (BON), 80; 3. Jacob Laing (BON), 81; 4. Drew Sandburg (TON), 83; 5. Aaron Williams (TON), 86; 6. Luke Russell (LAN), 87; 7. Greg Garvey (LAN), 89; 8. Jason VanMaren (BON), 92; 9. Steven Greer (BON), 93; 10. Lance Hodges (LAN), 93; 11. Tyler Hall (TON), 95; 12. Austin Harris (TON), 96; 13. Bryan Courtney (LAN), 96; 14. Zack Tallent (TON), 97; 15. Brett Larimore (LAN), 99.