From around the globe: Exchange students finishing up school year at Tonganoxie High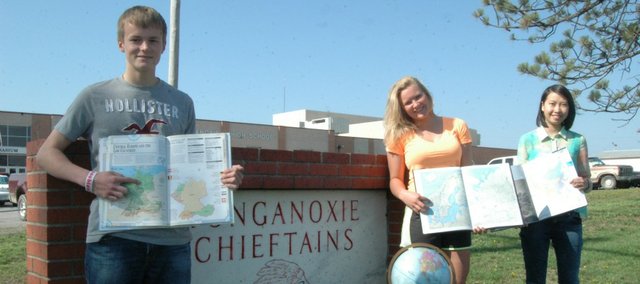 Students from China, Germany and Norway came to Tonganoxie late this past summer for a school year of classes at Tonganoxie High. Soon they will complete their school year of studies in a foreign country. Here's a closer look at each student's experiences while in Tonganoxie:
From NYC to Tonganoxie for German teen
Theo Fischer visited New York City last year. It was a fun trip, he said, and it piqued his interest in seeing more of the United States.
"I really liked America," Fischer said. "So I wanted to see the American high school."
The want led him to Kansas for a school year's stay in Tonganoxie, as did a cousin, who attended high school a few years ago in Colorado as an exchange student.
Fischer didn't waste time getting involved in school activities in Tonganoxie.
In Germany, students play on club teams instead of school-sanctioned teams.
Fischer played on the THS soccer team in the fall. The Chieftains advanced to the state championship, marking the first time in school history a THS team advanced to a state championship game.
He now is competing on the Chieftain track team in the hurdles and triple jump. Soccer was old hat for Fischer, but this spring is his introduction to track events.
"I think in my first year I'm pretty good in it," he said. "Not bad."
Fischer, who is from Quedlinburg, Germany, said something he appreciated at THS is the pride students have in their school.
"I really like the school spirit," he said. "Everyone is proud of being a Chieftain. "They wear school colors in their heart.
Comparing school in Quedlinburg to Tonganoxie, Fischer said he finds schoolwork in Germany to be more difficult than here. But he noted that in Germany, students are divided into two types of schools after elementary and middle school: one — Gymnasium — is for college-bound students and the other — das Sekundarschule — is for students heading directly to the workforce after high school. Fischer attends the Gymnasium school in Germany.
In Germany, students start learning English in third grade, Russian or French in seventh grade and Spanish, Latin or Italian in ninth grade.
Population of Quedlinburg, roughly a 2-hour drive from Berlin, is about 21,000, so there wasn't much of a transition in coming to Tonganoxie, population of just more than 5,000.
"Probably the houses here are more spread out," Fischer said.
He also said in Germany most activities were within walking distance.
"When I go out (in Germany), I can just walk for 10 minutes. Here, I always have to have someone drive me."
When it comes to food in America, Fischer has few complaints. He said he eats a lot of Mexican food, as well as hamburgers and hot dogs, but longs for one item from back home.
"I miss the German bread," he said. "Here it's soft and never crunchy outside. That's what I don't like about American bread."
Fischer, who lives with William and Tamara Behm, accompanied the family on a trip to St. Louis that included camping and sightseeing.
The family visited Six Flags and the Anheuser-Busch brewery. Fischer said the drinking age in Germany is 16 for beer and low-alcohol content drinks and 18 for all alcoholic beverages.
Though the drinking age is lower, the driving age is higher. Residents can't drive until 18, as opposed to 16 here, which Fischer envied.
He said he likes architecture and is "also good in math." He would like to attend college in Germany and then possibly another college in an English-speaking country.
Where are all the cowboys?
Hedvig Langehaug actually is studying in a larger town here than in her native Norway. Langehaug is from Hemsedal, which has a population of about 2,000.
"A friend of me told me she was going to do this exchange thing and I said, 'oh, I will try that,'" Langehaug said.
Of 300 applicants, Hedvig was one of 80 students selected.
"I wanted to see how America is, if it is the same as MTV," she said.
Asked whether Tonganoxie mirrors "Jersey Shore," she said "almost" with a laugh.
Friends in Norway painted a picture of what they thought Kansas would be like for Langehaug.
"All my friends told me when I came to Kansas it would be just a cowboy land," she said. "And boots and hats and straw in your mouth."
Her friends were wrong, but one preconception she had was spot on: it's flat here — or, at least in comparison to Hemsedal where there are "mountains everywhere. I mean everywhere."
Though she had to adapt to a new country, there was a familiar connection to home. Her host parents are Shaun and Monica Gee and they offered Langehaug her own horse, as she was an avid horseback rider in Norway.
Langehaug participated in volleyball and power lifting and now is competing in track in hurdles and javelin. In Norway, sports aren't extracurricular activities in schools
"I like it like this," she said. "You have everyone included. And you can be with friends and socialize when you're doing a sport. I think that is cool."
Another plus to being in America is the food, Langehaug said, though she said she misses fresh fish in Norway.
"I have never found something I never like," she said. "I like everything. I eat everything. I'm like a man. On Thanksgiving? Holycow. It's so much."
As for academics, she hates "math with a passion" and she had never seen multiple choice questions before this school year. Like Fischer, she started learning English at an early age — her mother also is an English teacher in Norway. She started learning English in kindergarten and then German in eighth grade.
The Norwegian senior must attend a final year of school in Norway before college, but she hopes to return to the United States for college. She looks to attend Kansas University or the University of Oklahoma and major in journalism or criminal psychology.
She said leaving Tonganoxie would be difficult.
"I miss of course my family and friends in Norway, but I love the people over here, too. I've met so many good friends here.
"I love my family here. It's like when I leave, it's going to be like leaving form home to my home."
From China to Tonganoxie
Chloe Wu lives in Guangzhou, China, which has a population of about 10 million. It happens to be the same hometown of 14-year-old golf phenom Guan Tianlang.
"I think I'm pretty proud of him," Wu said. "Some of my friends go to his school."
The sophomore said she has found a love for art while in Tonganoxie. She also has played the guitar and violin. She hadn't delved into art or the musical instruments before coming to Kansas. She also recently participated in an art competition with fellow THS students at Highland Community College. She said she was excited about the experience at the art day.
"The reason I like art is because of when I focus on something, I don't really need to talk to anybody," Wu said.
In China, teachers move to a students' homeroom, as opposed to the United States where high school students generally move from class to class for each subject.
She said there seems to be less homework issued in Tonganoxie. But she didn't find that to necessarily be a bad thing.
"We don't have that much homework, so you can kind of study by yourself," she said. "In China, I think a lot of times we have too many homework and not time to study by ourselves."
She said she was a big fan of teachers in Tonganoxie because they are helpful and "very patient."
Wu, who started learning English in third grade, said she's had her fill of American food.
"When I see pizza, I don't want it anymore because I need some Chinese food really, really bad," she said with a laugh.
She's become friends with fellow Chinese residents in Leavenworth. They serve authentic Chinese food compared to Chinese restaurants in America that have several deep-fried items.
"That's not what it's supposed to be," she said.
Wu, who lives with Jim and Anita Melrose in Tonganoxie, said she plans to eventually return North America for more schooling in Canada. She plans to study in Vancouver for additional high school education and then college to possibly study psychology.