THS

softball splits with Bobcats on senior night
Chieftains will finish above .500 for first time since 2007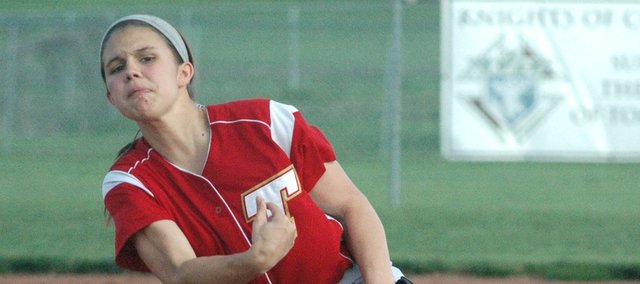 It's been six years since the Tonganoxie High softball team ended a season with a winning record. However, Tuesday night against one of the top teams in the Kaw Valley League, the Chieftains made sure that wait would come to an end.
THS split a home doubleheader with KVL rival Basehor-Linwood on senior night. It dropped a 3-0 decision to the Bobcats in the first game, but bounced back with a 4-1 victory in the nightcap.
With the win, the Chieftains (10-6, 7-5 KVL) guaranteed they'd finish the season above .500 for the first time since 2007.
After being shut out in the opener, THS used a four-run third inning to go in front in the second game. Caly Ingle-Maxwell, Shelby McDaniel, Sammi Bates and Morgan Oroke each drove in a run in the inning, which included three doubles.
"They came back in the second game and did what they were supposed to do: put the ball in play," coach Stephanie Wittman said.
That's all the offense Wittman's squad needed, as Bates cruised through the game in the pitcher's circle. She gave up just one run in seven innings, striking out seven and walking none. The Bobcats got their best scoring chance when they loaded the bases with one out in the seventh, but they managed just one run before Bates pitched out of the jam.
The win was Bates' second in as many days, as she also went the distance in a 6-5 win Monday at Baldwin.
Wittman praised the freshman's performance, but also gave credit to junior catcher Lainy Walker.
"Sammi was huge, but I want to put Lainy in the same category," she said. "She did a great job of calling pitches tonight. Bates was hitting the strike zone tonight, and she got girls swinging and looking."
Marissa Martin had the team's only multi-hit game, going 3-for-3 with a double.
The win marked the final career home game for seniors McDaniel, Jaycee Knipp and Savannah Bailey. All three were honored in a ceremony between games.
"This win is even more special because of our three seniors and the time and commitment they have put into this year to help build this softball program," Wittman said.
THS was quiet at the plate in the opener, as it managed just four singles off Bobcat pitcher Asia Larsen. BLHS scored on a sacrifice fly by Allison Kasick in the first inning, then tripled its lead with a two-run home run by Katie Lackner in the third. The Chieftains failed to answer, as they had just two runners reach base in the final four innings.
Despite taking the loss, Oroke was solid in the circle. She allowed seven hits, struck out two and walked three in seven innings.
"Our defense in the first game was the best I've seen us play all year," Wittman said. "There were just a couple ill-timed hits for them."
THS will try to end its regular season on a winning note when it travels Wednesday to Bonner Springs for a pair of games. The doubleheader was originally scheduled for last week, but was moved because of inclement weather. The games will have no affect on regional seeding.
"After tomorrow's games, we've got to make sure we're fresh physically and still engaged mentally," Wittman said. "We've still got quite a bit of our season to go. The chemistry is starting to click right now, and you couldn't ask for a better time."
Game 1
BLHS 100 200 0 — 3
THS 000 000 0 — 0
Leading hitters: Caly Ingle-Maxwell 1-2; Lainy Walker 1-3; Marissa Martin 1-3; Sammi Bates 1-3.
Game 2
BLHS 000 000 1 — 1
THS 004 000 X — 4
Leading hitters: Marissa Martin 3-3, 2B; Sammi Bates 1-2, 2B, RBI; Caly Ingle-Maxwell 1-3, 2B, RBI; Morgan Oroke 1-3, RBI; Shelby McDaniel RBI.