Golfers finish third at
KVL

tourney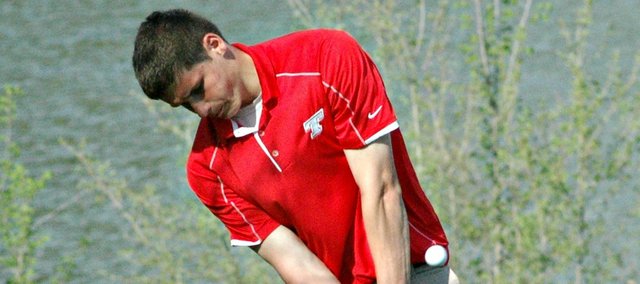 Bonner Springs — Over its last several outings, the Tonganoxie High golf team has seen its scores drop from tournament to tournament. THS wasn't able to defend its Kaw Valley League title on Wednesday, but still managed to continue its trend of consistent improvement.
The Chieftains finished third with a team score of 338 at Sunflower Hills Golf Course — the same course where they shot a 360 in their first tournament of the season.
"We're a better team today, and that's something we talk about," coach Jared Jackson said. "The pressure in a league tournament is just a little higher than a regular tournament. I'm not disappointed with 338. It's probably the range I expected us to be in. We're making progress."
Senior Aaron Williams finished below 80 for his fourth consecutive tournament, placing fourth individually with a 79. Junior Drew Sandburg also brought home a top-10 medal with a ninth-place score of 83.
The duo also placed in Tuesday's Junction City Invitational, where Sandburg finished third (72) and Williams eighth (73).
"We're just getting better every tournament," Williams said. "Some of our guys are struggling, but I know we can shoot even lower. If we can pull it together in regionals, we'll be good."
Seniors Tyler Hall and Connor Kietzmann finished with identical scores of 88. Junior Austin Harris and senior Zack Tallent rounded out the Chieftains day with scores of 94 and 95, respectively.
Reigning state champion Piper won the team title with a 316. The Pirates had three of the top-five individual finishers. Class 5A Mill Valley came in second with a 327.
THS will try to punch its its ticket to state on Monday in Class 4A regional action at Atchison's Bellevue Country Club. The tournament field includes last year's top three state finishers in Piper, Tonganoxie and Holton.
"We just have to go out and play our game," Jackson said. "If we go play our game without letting outside distractions happen, I think we'll be in pretty good shape. It's a mini-state field and it will have that feel to it, but there's no pressure on us. We've just got to go piece shots together, and we'll count them at the end."
Overall team scores
Piper, 316; 2. Mill Valley, 329; 3. Tonganoxie, 338; 4. Bonner Springs, 346; 5. Lansing, 362; 6. Basehor-Linwood, 380; 7. Bishop Ward, 405; 8. Turner, 444.
Top 10 individual results
Pahls (PIP), 76; 2. Rinehart (PIP), 77; 3. Abts (BON), 78; 4. Williams (TON), 79; 5. Fasching (PIP), 79; 6. Casburn (MV), 81; 7. Hadden (MV), 81; 8. Brinker (MV), 82; 9. Sandburg (TON), 83; T10. Wellner (PIP), 84; T10. McClain (BON), 84.