JACK

OF

ALL

TRADES

: Johnson excels in first high school track season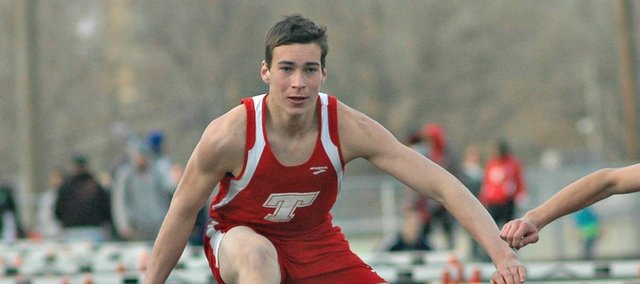 Coach Scott Peavey always knew Ben Johnson would be an asset to the Tonganoxie High track and field team. For two years, though, it seemed Johnson was content with focusing on his football and basketball careers.
A few months ago, the Chieftain junior had a change of heart. After mulling over other options, including baseball and even starting a men's volleyball team, he went out for track for the first time since eighth grade.
Early returns have been favorable, to say the least. Despite having to re-learn some events and pick up others from scratch, Johnson has emerged as the team's leading point scorer and, with regionals quickly approaching, cemented himself firmly in state conversation.
"(Going out for track) is something we had conversations about before," Peavey said. "I actually first met Ben when he was a freshman, and he's just an extremely athletic person. Track was something we knew he'd have a chance to be very successful at, and this year, he actually came to us.
"I've kind of noticed that, as they get to be upperclassmen, the opportunities to compete for Tonganoxie High School start to dwindle. It looks a little more attractive by the time they get to the spring."
Johnson competed in the high jump and high hurdles in his final middle school season, but admits he was far from an elite competitor.
"I don't think I even jumped five feet in middle school," Johnson said. "I was really bad."
Three years later, however, his fortunes have been reversed. He won the high jump and took fifth in the 110-meter hurdles in his first high school meet — the Lansing Invitational on April 2 — and he hasn't slowed down. He's since added the triple jump and 300-meter hurdles to his resume, and he currently owns the team's top marks in all four events.
Jumps were a priority when he returned to the track, but it didn't take long for coaches to realize his potential as a hurdler.
"On the first day of practice, coach (Bill) Shaw came up to me and said 'you look like you could do hurdles,'" Johnson said. "He put me in the two hurdle events, so I just ended up doing four. This year has been about learning the right techniques and getting down the technical stuff. I'm quite a bit better in everything. The coaches have done a really good job."
All told, Johnson has accumulated 113 total points this season — 48 more than the Chieftains' next-highest scorer. He's scored at least 13 points in every meet this season, including a pair of 24-point performances. He added his second event title of the season when he won the 110-meter hurdles April 26 at De Soto.
Entering today's Kaw Valley League meet at Mill Valley, Johnson has met regional qualifying standards in three of his four events, including high jump (5 feet, 10 inches), triple jump (41-5.5) and 110-meter hurdles (16.03 seconds). Tonganoxie will compete in a Class 4A regional May 17 in Baldwin City. The top-four finishers in each regional will qualify for the state tournament, set for May 24-25 at Wichita State University's Cessna Stadium.
"I want to make it to state, obviously, but I try not to think about all the rankings and stuff," Johnson said.
Rankings and results aside, Peavey said it's the same athleticism and positive attitude he saw in Johnson as a freshman that could lead to an appearance in Wichita later this month. Perhaps more important, it could translate into even more success in the not-too-distant future.
"He's a fun-loving kid and that's one of the great things about him," Peavey said. "He has a great sense of humor and keeps people loose. He's going to have to make sure he continues to prepare the way he needs to, both in practice and when we get to the meet, but he's really just scratching the surface of what he's capable of. The sky is the limit for this kid."