THS

soccer ends regular season with rout of Heritage Christian
Seven Chieftains score in 12-2 victory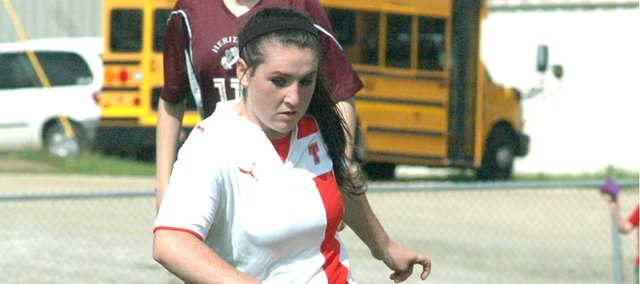 THS 12, HCA 2
First half scoring
Molly Welsh (TON), 39:22
Mackenzie Price (TON), 38:51
Emily Soetaert (TON), 35:53
Aly Bartholomew (TON), 17:45
Christopher Tiner (TON), 14:59
Emily Soetaert (TON), 13:18
Molly Welsh (TON), 11:14
Shannon Olson (TON), 7:56
Taylar Morgan (TON), 5:42
Mary-Lynn Baxter (HCA), :03
Second half scoring
Alexis Shin (HCA), 36:49
Molly Welsh (TON), 34:54
Emily Soetaert (TON), 32:10
Shannon Olson (TON), 28:32
Less than 24 hours removed from a comeback win in overtime, the Tonganoxie High girls soccer team wasted no time removing the suspense from its season finale.
The Chieftains scored twice in the first 1:09 to set the tone and rolled to a 12-2 win Thursday against Heritage Christian Academy. The win was the team's fourth straight and capped off a 7-7 regular season.
THS needed less than a minute to score its first goal, as senior Molly Welsh drilled the ball past HCA goalkeeper Mary Hershberger just 38 seconds into the game. Freshman Mackenzie Price added another goal 39 seconds later, and the rout was on.
"We'd never even heard of this team before, so we had no idea what to expect," coach Justin Seever said. "We knew they had some wins under their belt, so I challenged (our players) to come and play fired up. You could tell they weren't ready for our pace."
Junior Emily Soetaert made it 3-0 with 35:53 remaining, and a scoring drought ensued until midway through the half. Junior Aly Bartholomew found the net with 17:45 left in the period, igniting a string of six Chieftain goals in a span of just more than 12 minutes. Senior Christopher Tiner scored for the first time in her career during that stretch.
All told, seven THS players scored at least once before the break.
"That's a good motivation for everybody," Welsh said. "Even if you've been starting since you were an underclassmen, it's so great so see someone score who hasn't scored before. It keeps you encouraging them and it keeps a happy attitude on the team."
Heritage Christian got on the scoreboard just before halftime when Mary-Lynn Baxter got a shot just over the goal line with 3.5 seconds on the clock.
The Chargers made it 9-2 on a goal by Alexis Shin less than four minutes into the second half, but THS ended the game with three unanswered scores. Soetaert and Welsh both found the net, giving them three goals each, and freshman Shannon Olson put the mercy rule into effect with 28:32 remaining.
"We weren't just kicking and running," Seever said. "We were possessing a little bit. I wouldn't give us more than maybe one sloppy goal. There was good, solid contact on the ball. I'm really happy to get out of here with that win."
THS will now await its regional seed, which will be released Saturday by the Kansas State High School Activities Association.
"We have to mentally prepare ourselves (for regionals)," Welsh said. "Our attitude has to stay great because that's the only way we play together."