Five Questions: Grilling safety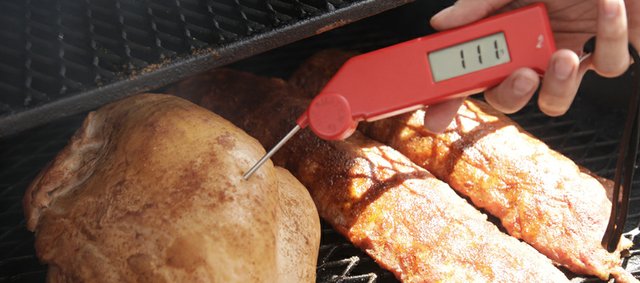 As springtime blooms, it's time to fire up the outdoor grill for tasty barbecue favorites. Douglas County Kansas State Extension Family and Consumer Science Agent Susan Johnson offers the following tips to keep food-borne bacterial from ruining the fun.
Q: Summer often means outings to the lake or other places away from home. What precautions should grillers take for such outings?
A: When carrying food to another location, keep it cold to minimize bacterial growth. Use an insulated cooler with sufficient ice or ice packs to keep the food at 40 degrees or below. Only take out the meat and poultry immediately before placing on the grill.
Q: Is there anything to keep in mind when handling food at the grill?
A: Yes. Be sure there are plenty of clean utensils and platters. To prevent food-borne illness, don't use the same platter and utensils for raw and cooked meat and poultry. Harmful bacteria present in raw meat and poultry and their juices can contaminate safely cooked food.
Q: What's the best way to assure meat and poultry are fully cooked?
A: Meat and poultry cooked on a grill often browns very fast on the outside. Use a food thermometer to be sure the food has reached a safe minimum internal temperature.
Q: What minimum temperatures should they reach?
A: Suggested temperatures are: 145 degrees for beef, pork, lamb and veal; 160 degrees for ground beef, pork and lamb; and 165 degrees for all poultry (including ground turkey).
Q: At picnics and family gatherings, food tends to be served buffet style. How long is it safe to leave food out?
A: Food should not be left out at room temperature for more than two hours. Don't leave food out for more than one hour if the temperature is 90 degrees or above. Discard any food left out for more than these recommended times.