McLouth softball falls in regional final
Game could be last for coach Patterson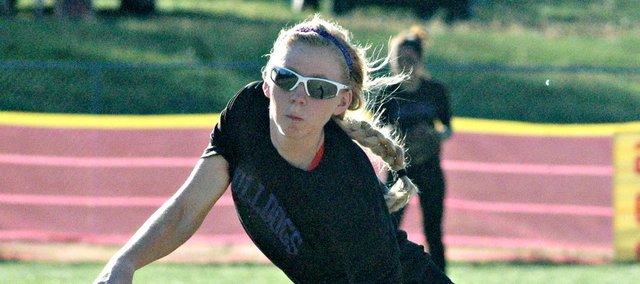 Valley Falls — For the second time in as many years, the McLouth High softball game found itself seven innings from a return to state. Much like last year, though, the potential cause for celebration quickly turned to heartbreak.
The Bulldogs reached the regional championship game with a 6-4 win against host school Valley Falls, but couldn't generate much offense in a 7-1 loss to undefeated Oskaloosa at Davis Field.
After pounding out 10 hits in the semifinals, MHS managed just four off Oskaloosa pitcher Haidyn Bassett. The Bear freshman didn't allow a hit until the fifth inning and racked up 10 strikeouts.
"We played our game plan for the Valley Falls game, but then we got off of it," coach Ballard Patterson. "We had a game plan for (Oskaloosa) as well, but we didn't really do it. You can't strike out 10 times and beat at team with that much experience."
OHS grabbed an early lead with two runs in the first inning. McLouth freshman Shannon Greene pitched to the first two batters, but was replaced by sophomore Angela Dailey, who gave up a two-run double to Rachel Harding. The Bears added one run each in the fourth and fifth innings to make it 4-0.
McLouth (16-5) got on the scoreboard in the sixth when senior Taylor Pope doubled and scored on an RBI single by junior Konner Patterson. That's as close as the Bulldogs got, though, as Oskaloosa avoided further damage with a fielder's choice.
A pair of defensive mishaps led to three more Bear runs in the bottom of the inning. One run crossed the plate on a wild pitch, and two more scored on a throwing error. Bulldog senior Marrisa Raya led off the seventh with an infield single, but Bassett struck out the next three hitters to end the game.
"I think we needed to see a few pitches to get a little bit better timing, but I really thought we could have hit (Bassett) the first time around," Ballard Patterson said. "She's a great pitcher. I don't want to take anything away from her."
Raya had the team's only multi-hit game, going 2-for-3 with a pair of singles. Pope's sixth-inning double was the only extra-base hit by an MHS player.
For the first time this season, the Bulldogs used three pitchers in a game. Greene got the start and threw 1.2 innings, but Dailey suffered the loss in a four-inning effort. Freshman Shelby Turner, who defeated Leavenworth-Immaculata in Monday's regional opener, also pitched one third on an inning.
The loss marked the final career game for seniors Raya, Pope and Alex Adams. Additionally, it could be the team's last contest under Ballard Patterson's watch.
"I need to re-evaluate and see if I'm still the best option for this position," said the coach, who owns a 154-23 record after eight seasons at MHS. "It's selfish of me to keep doing it if it's just for personal reasons. If I'm not the best guy for the job, maybe I shouldn't be doing it. We'll just have to see what tomorrow brings."
MHS 000 001 0 — 1
OHS 200 113 X — 7
Leading hitters: Marrisa Raya 2-3; Taylor Pope 1-2, 2B; Konner Patterson 1-2, RBI.
McLouth 6, Valley Falls 4
The Bulldogs went in front early withstood a late rally against the hosting Dragons in semifinal action. MHS started hot at the plate, recording four hits in a three-run first inning. Greene started off scoring with an RBI single, and Raya tripled the team's advantage with a two-run double.
VFHS got one back in the bottom of the frame and threatened to add more, but Greene got a strikeout to end the threat with the bases loaded. The lead only lasted another inning, though, as Valley Falls evened the score with a two-run single by Molly Tillery.
After watching their three-run lead evaporate, the Bulldogs went back in front in the fourth when junior Amber McCown scored on an RBI groundout by Pope. They added two more in the fifth when Adams scored on an error and Dailey drove in Konner Patterson on a sacrifice fly.
The Dragons made one last push in the final inning, scoring one and getting runners on second and third, but Dailey forced a pop-out to second base to secure the win.
"When it's regional time, we know how to kick it up, even if we're a little bit undermanned," Ballard Patterson said. "I believe that Valley Falls, player-for-player, is as good as any one of the teams in the final. We had the experience of being there. We understood what it means to play in a regional championship game, so that makes a big difference."
Greene got the win in the pitcher's circle. She allowed three runs on nine hits, striking out four and walking one in five innings of work. Dailey struck out two and walked one in two innings of relief.
Raya led the team at the plate, going 2-for-4 with a pair of RBIs. Adams, who went 2-for-4 with two singles, was the only other Bulldog with a multi-hit game.
MHS 300 120 0 — 6
VFHS 120 000 1 — 4
Leading hitters: Marrisa Raya 2-4, 2B, 2 RBI; Alex Adams 2-4; Angela Dailey 1-2, RBI; Shannon Greene 1-3, RBI; Taylor Pope RBI.