MHS

softball cruises by Raiders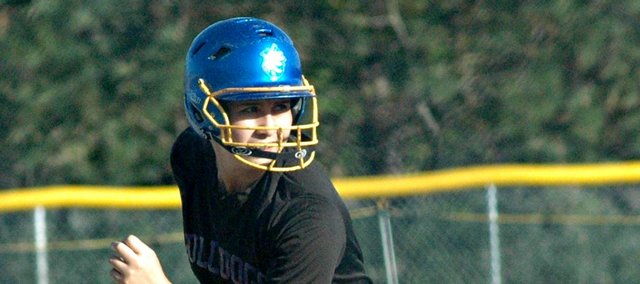 McLouth — Entering Monday's regional opener, McLouth High softball coach Ballard Patterson made the game plan as simple as possible: Hit the ball hard and play good defense. The Bulldogs did both from the get-go, and the results spoke for themselves.
Powered by a 10-run first inning, MHS (15-4) cruised to a 15-3 win against Leavenworth-Immaculata in five innings. With the win, they advanced to today's semifinal round at Valley Falls.
"We knew coming in that we were going to get quality at-bats," Patterson said. "We had to have those going into (Tuesday) night. We worked really hard on our hitting this last week. We were a little bit greedy when we got ahead in the count, but we did a good job."
The Bulldogs had just four hits in the first inning, but drew four walks and took advantage of several Raider errors to open a big lead. Dominique Tullis, Marrisa Raya, Konner Patterson and Shannon Greene each drove in one run in the inning.
Immaculata got on the scoreboard with two runs in the top of the third and added another in the fourth, but the final outcome was never in question. Greene added another run on an RBI single in the third, then drove in three more in the fourth.
The mercy rule went into effect in the fifth when the Raiders failed to get within single digits. Patterson pulled seniors Raya, Alex Adams, Taylor Pope and Kaitlyn Tomlinson off the field during the inning, and each received an ovation from the crowd.
"These are my warriors. This group is so tough," Ballard Patterson said. "Have they put up All-America numbers? No, they haven't, but have they gone out there and given me everything they had? Absolutely. This is going to be one of my toughest groups to let go because they always played with heart."
Greene and Adams had the only multi-hit games for the Bulldogs. Greene went a perfect 3-for-3 with a game-high five RBIs, while Adams went 2-for-4 and drove in one.
Freshman Shelby Turner got the win in her first start in the pitcher's circle. She allowed three runs on four hits, striking out four and walking three in five innings of work.
"She did a fantastic job," Ballard Patterson said of Turner. "She didn't throw the ball by anybody, but I was wanting them to put the ball in play and us to do play defense. Our defense did a pretty good job, so I was pretty pleased."
MHS will take on host school Valley Falls in today's semifinal round at 4:45 p.m. The Bulldogs split a doubleheader with the Dragons on April 15. The winner will advance to the regional title game, where it will face either Oskaloosa or Troy.
McLouth 15, Immaculata 3
IHS 002 10 — 3
MHS (10)01 4X — 15
Leading hitters: Shannon Greene 3-3, 2B, 5 RBI; Alex Adams 2-4, RBI; Konner Patterson 1-1, 2B, RBI; Dominique Tullis 1-1, RBI; Marrisa Raya RBI.