Three
THS

golfers qualify for state
Sandburg, Williams, Hall headed to Cheney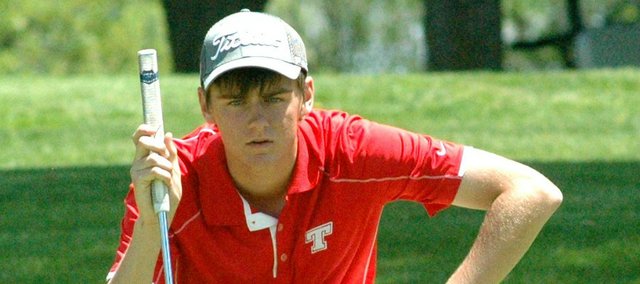 Atchison — Well before the start of Monday's regional tournament, Tonganoxie High golfers knew a potential road to state would be very steep. The Chieftains fell just five strokes short of punching their ticket, but for three members of the varsity squad, the season isn't quite over.
THS finished fourth with a score of 331 at Bellevue Country Club, leaving it two spots short of its fourth straight team bid. Not all was lost, though, as junior Drew Sandburg and seniors Aaron Williams and Tyler Hall qualified in the individual ranks.
"All we could do was play our own game," coach Jared Jackson said. "I told the kids to shoot as best as they can, and I really felt like we matched our expectations. It never feels good to be that close and be turned away, but we met our expectations."
Reigning state champion Piper won the tournament handily with a score of 326. The Pirates had the top three individual scores. Topeka-Hayden (326) edged out Holton — a third-place state finisher last season — by one stroke for the second state bid.
Sandburg led the Chieftains with a 77, good enough for fifth individually. Williams finished ninth with an 81 and Hall tied for 10th with an 83.
Per Kansas State High School Activities Association rules, the top five individual golfers who didn't qualify in the team ranks earn a bid to state. The THS trio finished second, third and tied for fourth among that group, respectively.
The three THS qualifiers will represent their school in the Class 4A state tournament Monday at Cherry Oaks Golf Course in Cheney. The Chieftains have some familiarity with the course, as they played there in the Wichita Collegiate Invitational on April 19.
"It feels like we've worked up to this moment," Hall said. "It's sad to not see the team go, but it's amazing that we can come out here and give it our best. We were kind of the underdogs, but we came out and played to the best of our ability."
Williams will make his team-best fourth state appearance next week, while Sandburg and Hall will each make their third. All three golfers helped THS to runner-up team finishes in each of the last two state tournaments.
"They're all experienced. We expect them to go down and compete as individuals for a medal," Jackson said. "They all have the talent to do that. I think the pressure will be less, not having the team aspect. There will be a more relaxed nature."
Monday's regional marked the end of the road for senior Conner Kietzmann, junior Austin Harris and senior Zack Tallent. Kietzmann finished the season with a 90, while Harris and Tallent carded scores of 94 and 99, respectively.
Overall team results
Piper, 299; 2. Hayden, 326; 3. Holton, 327; 4. Tonganoxie, 331; 5. Jeff West, 346; 6. Basehor-Linwood, 401; 7. Perry-Lecompton, 411; 8. Bishop Ward, 433; 9. Atchison, 441.
Top 10 individual results
Charlie Rinehart (PIP), 71; 2. Alex Wuellner (PIP), 73; 3. Eric Pahls (PIP), 76; 4. Tavin Dugan (HOL), 77; 5. Drew Sandburg (TON), 77; 6. Zack Wurtz (HAY), 77; 7. Montana Fasching (PIP), 79; 8. Brock Falley (HAY), 81; 9. Aaron Williams (TON), 81; T10. Tyler Hall (TON), 83; T10. Kenton Tegethoff (HOL), 83; T10. Ethan Holaday (HOL), 83; T10. Connor Mickens (JW), 83.