Dog treat business booming for students with special needs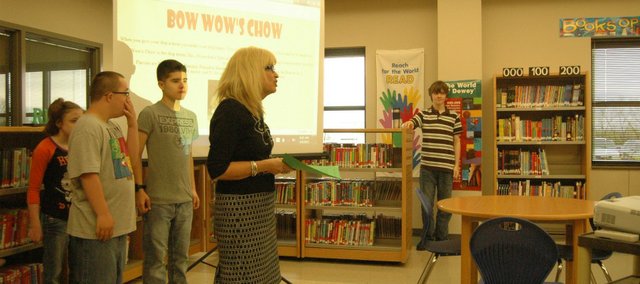 Peanut butter, banana, pumpkin banana and cheesy garlic are some popular flavors Tonganoxie special education students are whipping up these days.
The cheesy garlic even helps keep the fleas away.
No, the students aren't baking breads for a food sale.
These items are for the dogs.
Since February, special education classes at Tonganoxie Middle School and Tonganoxie High School have been making dog treats for sale. Their business is called BowWow's Chow, and sales are going pretty well.
"We sold probably about $800," said Nancy Overacker, middle school special education teacher.
Overacker, who works through the Leavenworth County Special Education Cooperative, spoke to Tonganoxie Chamber of Commerce members, who had their monthly coffee meeting Friday at the TMS library.
Ten special needs students also spoke to the chamber members. Many said they liked cutting out the dog treats, while one student liked that the cheesy garlic treats help keep the fleas away for dogs.
Overacker said she wanted a project that would help students work on their behavior skills, as well as their ability to interact with others in work settings.
"I wanted them to learn some skills, like how to work with coworkers without calling them names," she said. "You have to come to your job on time. Don't stay home unless you're really sick."
Overacker has a friend who has a cupcake business in Kansas City, Mo. Her friend looked up recipes online for dog treats. From there, students started making dog treats from a few of the recipes. Students first made the treats at the middle school. Special needs students at the high school then got into act, making the treats on the high school campus.
Overacker said students generally made 20 10-ounce bags of dog treats per week, though students had been working to churn out even more for the Ladies' Night Out event later this month at Holy-Field Winery in Basehor. The treats will be part of a dog-themed gift basket to be sold during a silent auction at the winery. Overacker said the class would receive proceeds from the basket. Profits go toward field trips and more dog treat supplies, she said.
Overacker said the idea to make dog treats was a simple one.
"I have three rescue dogs," she said. "A lot of these kids have dogs. Everyone loves dogs — there's hardly anyone who doesn't.
"People will do things for dogs and kids."
The students went on a field trip to Jalapeno's restaurant in Tonganoxie as a reward for dog treat production.
The field trip also served as a practice in functional skills. Students practiced ahead of the trip working on manners and paying for their meals, Overacker said.
Students will finish up dog treat production at the end of the school year this month and then will resume in August when the 2013-14 school year begins.
Treats can be purchased through the school or from Kansas Country Store South, 1203 U.S. Highway 24-40 or Wizard of Paws, 612 E. Fourth St. in Tonganoxie. In Basehor, the treats can be purchased at Wagg'n Tails Day Spa, 15630 Pinehurst Drive.
"This is a great community and everyone is so willing to help us here,"