SETTING

THE

BAR

HIGH

: Whitledge, Griffin evolve into dynamic high jump duo
Teammates eye third regional sweep, return to state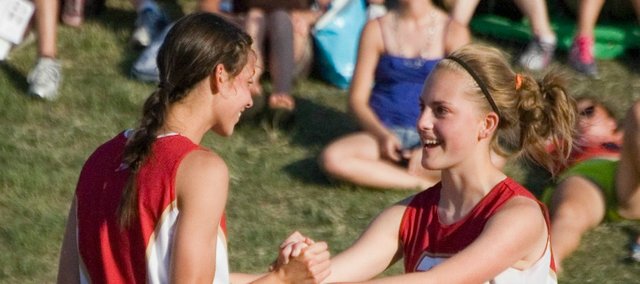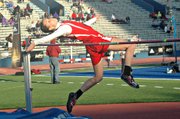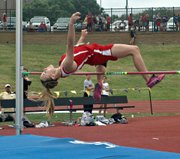 Whitledge's resume
KVL runner-up in 2010, 2013
KVL champion in 2011, 2012
Regional champion in 2010, 2011, 2012
State runner-up in 2010
State champion in 2011, 2012
Two event titles in 2013
Griffin's resume
KVL runner-up in 2011, 2012
KVL champion in 2013
Regional runner-up in 2011, 2012
State eighth place in 2011
State runner-up in 2012
Three event titles in 2013
Since first joining the Tonganoxie High track and field team, Jenny Whitledge has made one thing absolutely clear: Whenever she sets foot on a high jump pit, a gold medal is on the line.
Now in her final season, Whitledge has rewritten the school record book. Her resume includes a pair of Kaw Valley League titles, three regional titles and two state titles. Success has come frequently for the Chieftain senior, but it hasn't always come easy. More often than not, it's been her own teammate pushing her to raise the bar — both literally and figuratively.
Like Whitledge, THS junior Haley Griffin has established herself as one of the state's best jumpers. After finishing as league, regional and state runner-up last season, she has won three meet titles in 2013, including her first KVL championship Friday at Mill Valley.
"When the pressure is really tough, they both just seem to step up to the plate and get a hit," THS girls coach Chris Weller said. "Both of them want to win, but they'll both play off each other and support each other."
With just one guaranteed meet left as teammates, Whitledge and Griffin have a chance to yet again etch their names in Chieftain history. They have finished first and second, respectively, at each of the last two regional meets. They can sweep the top two spots for a third consecutive year today at Baker University's Liston Stadium in Baldwin City. Additionally, they can punch their tickets to state by finishing in the top four. They rank first and second among jumpers in the Baldwin regional.
The duo is just the latest in a string of successful high jumpers at Tonganoxie. The Chieftains have sent at least one female jumper to state in all but one season since 1994.
Both jumpers admit they've used each other's success as motivation, and that extra push has almost always paid off. They've occupied the top two spots in four of the five meets in which they both competed this season. Oddly enough, though, they were both at their best when they failed to sweep. Each jumper cleared a season-best height of 5 feet, 4.25 inches at the Kansas Relays on April 18. Whitledge finished second behind 2011 Class 6A champion Alexa Harmon-Thomas, while Griffin tied for third.
Shania Vannoster of Independence and Madi Rollins of Chanute have the only higher jumps at the Class 4A level this season (5-6).
The height of 5-4.25 marked a personal record for Griffin. Whitledge's personal best came at last year's Tonganoxie Invitational, where she broke an 18-year-old school record with a jump of 5-6.25.
"We've just had some really good luck, but I'm willing to bet there are very few coaches who ever get two 5-4 jumpers in one season," Weller said.
Both jumpers reached 5-4 at last week's KVL meet, but Griffin won the league title because she needed fewer attempts to clear the bar.
The friendly rivalry has led to plenty of fierce competition — and countless medals — but it's rarely discussed between the teammates.
"We definitely don't talk about beating each other," Griffin said. "We just want to play it cool and whatever happens, happens. I definitely want the best for Jenny, I know she wants the best for me and we both want the best for ourselves, so it makes it hard competing against her."
Griffin credited much of her success to working with Whitledge, who has never finished lower than second at a league, regional or state meet. Whitledge won back-to-back state titles after taking second as a freshman. Meanwhile, Griffin finished eighth at state as a freshman and second as a sophomore.
A top-four finish Friday would give Whitledge a chance at a rare three-peat at state, but she would face arguably the most talented field of her career. She won both state titles with jumps of 5-4 — a height already cleared by Griffin and six other 4A jumpers in 2013.
Like she's done so many times, though, she'll rely on the encouragement of one of her toughest competitors.
"It's a little bit of pressure, but I'm able to take the pressure off myself by telling myself to relax and not remember the last couple years," Whitledge said. "I have to remember to just enjoy the moment and go out there and work my hardest.
"It's been really great just having (Griffin) to support me, and I support her. She's a really great person and a really great friend. We don't really talk a lot (outside of track), but she's always there for me to talk about high jump if I need it. We have a really great time together."
Regional action will begin at 3:30 p.m. The state meet is set for May 24-25 at Wichita State University's Cessna Stadium.