Taking Center Stage
Tonganoxie High School forensics team brings home another trophy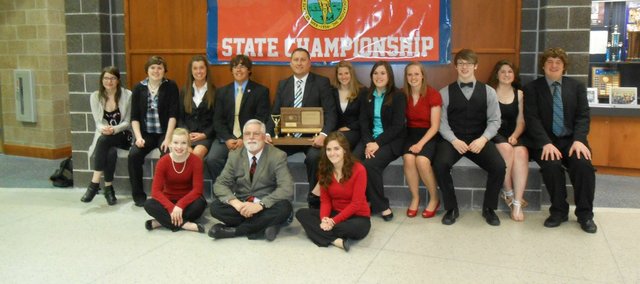 Anyone who drives through Tonganoxie along U.S. Highway 24-40 from the south vividly can see the success the Tonganoxie High School debate team has enjoyed through the years.
Some of those students also compete in forensics — also known as speech and debate — right after the debate season concludes in January.
And the forensics program is no slouch. The team last won a state title in 2008.
Since then, the Chieftains have come close on several occasions of winning another team title.
In 2009 and 2010, the team placed third, followed by second in 2011 and 2012.
In 2013, THS again placed second, just 7 points behind Sumner Academy, which also placed first last year in Class 4A.
THS coach Steve Harrell said it was a pretty thin margin.
"That's basically a wash," Harrell said. "One of their kids faring well in one round and someone in our round doing a little bit better and that round evaporates that lead pretty quickly."
THS had eight medalists overall at state, which took place May 4 at Kansas City Kansas Community College.
Of those medalists, two placed first in their respective events: Hunter Cook in informative speech and Jacob Casselman in oral interpretation of poetry.
"Jacob's had a pretty fine season all year," Harrell said. "Not quite on top of game late in season, but he had a great state tournament, so that was pretty exciting."
Harrell also had high praise for Cook, who also placed fifth in extemporaneous speech.
"She would have liked to have done better in extemporaneous, but anytime you walk out of the state championship with first place in something, that's a pretty good day."
Austin Harris finished fourth in informative speech alongside Cook. The two will compete this summer in extemporaneous speech at the National Catholic Forensics League Grand National Tournament in Philadelphia.
"For us to both qualify is pretty cool," Cook said. Especially with us being debate partners. He's one of my best friends, too."
Cook said extemporaneous speech requires practice, practice and a bit more practice.
"You have to do it every weekend," she said. "It's not something you can pick up and put back down."
Other THS team members placing at state were Lauren Harrell, fourth place, and Halston Field, fifth place, in humorous solo acting.
In oral interpretation of poetry, Christopher Tiner finished fourth.
Tonganoxie's other state champion, Casselman, competed against his former school and actually had some help from his former coach.
In forensics, students aren't allowed to use their own coach's works. For the oral interpretation of poetry event, Casselman utilized works of former coach at Fort Scott, who is good friends with Harrell.
The first-place caps off a big long stretch of competitions. After the debate season ends in January, there's usually a week off before forensics begins.
"You just jump right in and hope you don't drown," Casselman said with a laugh.
Christopher Tiner, Kelsi Briggs, Mallory Harrell and Sara Krapp are four seniors who have spent a great deal of time in forensics — and with each other.
"Us four seniors have been friends all four years," Krapp said. "Theater, band. We've done everything together. I think we're four of the closest friends.
"I just think it brings us closer together. We really connect with the team on that level."
Briggs said it was an honor to be associated with the Tonganoxie forensics team.
"I think we have a really good program here," Briggs said. "We're Lucky to have two great coaches (Harrell and Ken Church) to direct us and lead us.
"We have natural talent, but natural talent needs guidance, too."