Chieftain soccer defeats Sumner for regional title
THS

will play Tuesday at Spring Hill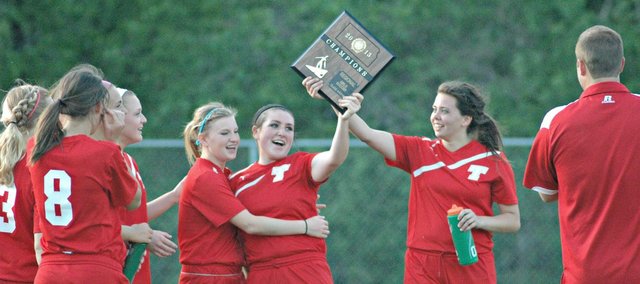 THS 3, Sumner 2
First half scoring
Sumner goal, 15:41
Molly Welsh (TON), 12:10
Mackenzie Price (TON), 7:30
Molly Welsh (TON), 5:45
Second half scoring
Sumner goal, 6:08
Kansas City, Kan. — Before Tonganoxie's Class 4-1A regional championship game against Sumner Academy, Molly Welsh made a promise to a former teammate. With one swing of the leg, the Chieftain senior made good on that promise and provided her team with a much-needed spark.
Welsh erased an early 1-0 deficit with a first-half penalty kick — her first of two goals in a 3-2 THS victory Thursday at City Park.
In the days preceding the game, Welsh spoke with 2011 Chieftain grad Ashley Forbis, who underwent brain surgery this week, and promised her a goal against the Sabres. A collision in the box gave Welsh an opportunity with 12:10 left until halftime, and she fired a shot past the goalkeeper and into the left side of the net.
"I really wanted to dedicate it to (Forbis)," said Welsh, who has four goals in postseason play. "I told her I was going to score for her today, so that goal was really special. I think it woke us up because we all know what she's going through."
Welsh's first goal countered a penalty kick by Sumner less than four minutes earlier. Chieftain goalkeeper Lauren Jackson blocked a Sabre penalty kick in the game's opening minutes, but couldn't corral the second attempt.
Freshman Mackenzie Price gave THS (9-7) its first lead when she scored off a pass from junior Emily Soetaert with 7:30 left until the break. Welsh doubled the advantage less than two minutes later when she followed a shot off the crossbar by junior Madison Simmons and put it into the net.
"I think (Sumner's early score) actually helped us," coach Justin Seever said. "That was probably the best 20 minutes of our season. That's how we should play all the time."
The near miss was Simmons' second of the contest. She and fellow junior Taylar Morgan each had a shot attempt ricochet off the post in the game's first 10 minutes.
THS took its two-goal lead into intermission and it looked as though it might remain 3-1 until the end of the game, but Sumner (5-3-3) cut the deficit in half with 6:08 remaining. However, the Chieftains buckled down on defense to secure their sixth straight win and second consecutive regional title.
"I was a little nervous because I think we got a little complacent," Seever said. "We're not used to holding on to a lead like that, but we settled down and played our game to finish strong."
With the win, THS advances to the state quarterfinals. The team will travel Tuesday to Spring Hill. The Broncos (11-2) advanced won their regional with a 6-0 victory against Kansas City Christian. The Chieftains dropped a 10-0 decision on April 22 at SHHS.
Past games aside, Welsh emphasized the importance of maintaining a sense of camaraderie when the Chieftains return to the field next week.
"It's still just about being a family," she said. "We have to stick together because, if one person loses interest, that can throw an entire game off. You have to be a team on the field. If one person falls, we pick that person up."