Father of slain toddler grieves in Missouri jail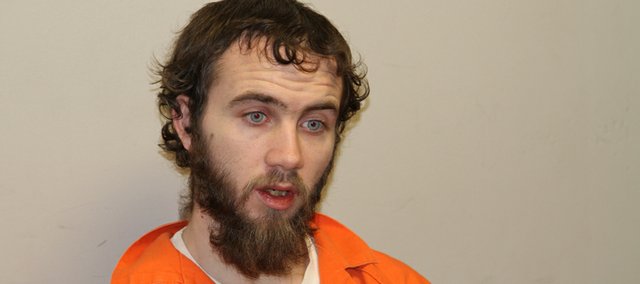 Lebanon, Mo. — It's only about 200 miles along curvy highways and country roads from Lebanon, Mo., to Ottawa, Kan., where in a few hours, visitation services would begin for Shawn Patrick Bailey's 18-month-old daughter and estranged wife, victims of a quadruple homicide discovered last week in Ottawa.
For Bailey, though, the services might as well be in another world.
Shackled to a table, Bailey — in an orange jumpsuit and awaiting transfer to a Missouri prison— sits in small room at the Laclede County Jail in Lebanon and talks about the case that's gripped the Ottawa community and garnered national attention. On May 6, the bodies of Bailey's wife Kaylie, as well as Ottawa men Andrew Stout and Steve White, were discovered at a farmstead in rural Ottawa. Bailey's daughter, Lana-Leigh, was discovered Saturday in Osage County, also a homicide victim in the case.
Bailey readily concedes his role in missing the funeral services. He's a drug addict, thief, and career criminal, he'll tell you, rattling off the list of correctional institutions he's been in during the past 15 years.
But Bailey, about to start a multi-year prison sentence for a January burglary in Lebanon, is also a grieving father.
"I loved that little girl more than life itself," says Bailey, smiling dryly when it's pointed out he shares the same set of deep blue eyes that gazed out from family photos and missing persons fliers last week as police combed the Ottawa area, looking for his daughter's body. "She was the perfect baby. Never cried. Smart as a whip."
Bailey's story as a family member of the Ottawa homicide victims is far more complicated than some of the stories told this past week by the grieving relatives of the other victims in the case. The 25-year-old former Kansas inmate with a criminal record a mile long even goes as far as placing the blame on himself for the killings of his daughter and wife.
'Within the first week'
In 2010, fresh out of prison and on parole for a 2008 burglary conviction in Franklin County, Shawn first met Kaylie when a mutual friend asked her to give him a ride to Ottawa from Fort Scott. Shawn says Kaylie, just 18 when they met, was innocent and trusting.
He took advantage of that.
"When I looked at somebody, I looked at how I could use them," Shawn says. But he fell in love with Kaylie.
"I knew within the first week of meeting Kaylie, I was going to marry her," he says.
The couple would marry, in 2011, and Lana-Leigh was born the same year. But Shawn says he could never quite shake his criminal past and methamphetamine use and addiction.
He started using meth again heavily after Lana-Leigh was born and following the murder of Shawn's 21-year-old brother Ryan, in Pittsburg, in October 2011.
Shawn never straightened his life back out, and Kaylie left him in order to protect the baby, he says.
"She thought I was putting the drugs before her, and she was right. I was," Shawn says. The couple lived together at various points and places the past couple years, but the relationship ended in fall 2012. Shawn says he began committing crime to support his habit, and continued to do so until his January arrest. Kaylie, at some point, refused to allow Shawn to be in their lives, he says.
Shawn says he last saw Lana-Leigh, for a few minutes in a parking lot, on Christmas Eve.
Here's where his guilt comes in: Shawn says he introduced Kaylie to Stout, who was friends with Shawn and lived at the property where the killings occurred. During the past several years, Shawn says he and Kaylie spent time out at the Georgia Road home.
He could've been off drugs, working and supporting his wife and child. But, he wasn't, instead sitting in jail when the killings happened.
"I feel that if I would've just stood up and been a man, took care my responsibilities, then my wife would've never had to be where she was at," Shawn says.
The news
The day police discovered Kaylie's body, Shawn had just received a nine-year prison sentence for his role in the January burglary. Shawn's mother, Rachel Helms-Bailey, came to see her son and told him Lana-Leigh and Kaylie were missing. The next day, Helms-Bailey told Shawn that Kaylie was dead. And though his daughter was still missing, Shawn says he knew at that point that his daughter was probably dead as well.
He says he's thankful he was behind bars, unable to use drugs or attempt to retaliate against Kyle Flack, who had by May 7 been identified as a person of interest in the case. Flack has since been charged with four counts of murder in the case.
Shawn knew police suspicions regarding the crime would fall on him, even though he had been in the Laclede County Jail since January. Kaylie was in the process of divorcing him, and Kaylie was found killed along with her new boyfriend, Stout.
Investigators "laid the big question to me. 'Did you have anything to do with it?'" Shawn says. "I think being asked that question hurt more than the whole situation."
Since the arrest of Flack, information has trickled into Shawn about the case. Behind bars, he says he's had to focus on forgiveness, faith, and coming to grips with the killing of his daughter.
"I have a year's worth of memories (with Lana-Leigh), and it's not enough," he said.