Dent to continue wrestling career at Midland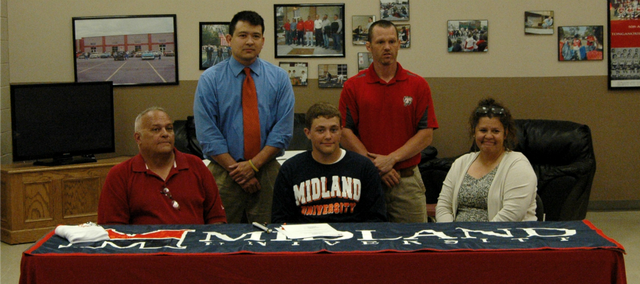 After three years of waiting, Tonganoxie High senior Gus Dent made the most of his only varsity wrestling season. Dent's hard work and determination led to plenty of success in 2012-13, and the benefits are still rolling in.
Thursday at THS, Dent made sure his senior season wouldn't be his last on the mat when he signed a national letter of intent to wrestle at Midland University in Fremont, Neb.
"It's a huge relief," Dent said. "It didn't really feel like a big deal until I got here, but then it really hit me. It feels great."
After three years on the junior varsity squad, Dent earned the 170-pound varsity spot this season. He opened the season with a tournament title in Wamego, then reeled off four more top-three finishes, including a Kaw Valley League title on Feb. 9 at Lansing.
He saved his best for last, though, as he punched his state ticket a week later with a third-place finish in Class 4A regional action at THS. He picked up three come-from-behind wins — two of them in overtime — to secure a spot at the state tournament in Salina.
"I think Gus is the standard for what a high school athlete should be," THS athletics director Brandon Parker said. "In our society, a lot of people want stuff, but they don't work for it. Gus has shown the character, drive and determination that it takes. When you work as hard as you can, good things will happen to you."
Dent wrapped up the his final high school campaign with a 19-13 record. Following the season, he received an honorable mention on the Kansas Wrestling Coaches Association's academic state championship list.
"He wanted to do things the right way and for our program," coach Jeremy Goebel said. "We talk about leaving your mark on and off the mat, and he did that."
In addition to wrestling, Dent played football and baseball for four years. He helped the football team to its first regional championship in six years last fall, then played a role in the wrestling team's first-ever regional title in February.
Dent will join a Warrior squad that finished ninth at the 2013 NAIA national championships. He'll be coached by Beau Vest, who just finished his third season at Midland.
"It's a really good program," Dent said. "I like what the coach had to say. He said a lot of the same things as Goebel. I if you work hard, good things will happen, and they're going to make me into the best wrestler I can be."