Four Chieftains qualify for state track
THS

girls go 1-2 in high jump, long jump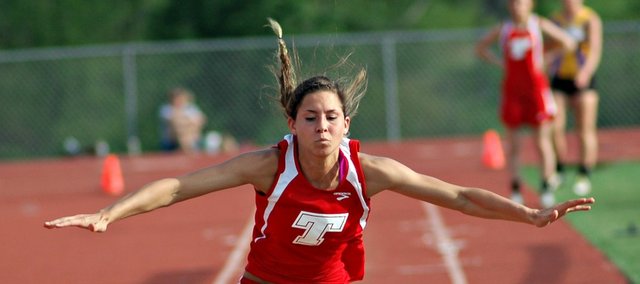 Baldwin City — With the conclusion of Friday's regional competition, the 2013 track and field season officially came to a close for most high school athletes across Kansas. However, for a select few, the road got a little longer.
Four Tonganoxie High athletes qualified for next week's state meet in Class 4A regional action Friday at Baker University's Liston Stadium.
THS senior Jenny Whitledge won her fourth regional high jump title and broke a school record in the process, clearing a height of 5 feet, 6.5 inches. The two-time state champion broke her own record of 5-6.25, which she set at last year's Tonganoxie Invitational. The record breaker was her first jump higher than 5-4.25 this season and ranks first among 4A state qualifiers.
"Honestly, I went in not really thinking about it," Whitledge said. "I was just here to have fun and do my best, and if I qualified for state, I qualified for state."
With the regional title, Whitledge became the first-ever THS athlete to win four regional titles in the same event. She can become the school's first three-time state champion Friday at Wichita State University's Cessna Stadium.
Junior Haley Griffin (5-2) finished second behind Whitledge. The duo has swept the top two regional spots in each of the last three seasons. They'll try to accomplish that same feat at state after doing so in 2012.
Whitledge also picked up an individual title in the long jump with a jump of 17-3. She needed all three jumps to record a mark in the preliminaries, but came back to edge her sister and second-place finisher Jackie Whitledge (17-2.5) in the finals. Jackie broke her personal record of 17-2, which she set in last year's regional at the same stadium. Both sisters qualified in the event last year as well.
Jenny and Jackie currently rank fifth and eighth among 4A long jumpers, respectively. Abby Simon of Andale owns the top mark with a jump of 18-0.5.
The girls 4x800-meter relay team of sophomores Tressa Walker and Kourtni Freemyer and freshmen Sophia Wetta and Nicole Zerrer replicated its success from the Kaw Valley League meet on May 8, but couldn't quite make the state cut. The tandem finished sixth with a time of 10:35.68.
"I know they're disappointed with their time, but they didn't quit," girls coach Chris Weller said of the relay team. "They've worked really hard and they're still really young, so I think they'll come together really well next year. I'll be surprised if they're not at state."
Walker also finished eighth in the triple jump (31-6), Zerrer took eighth in the 1,600-meter run (6:11.85) and Wetta took ninth in the 3,200-meter run (13:17.36). Senior Holley Thompson had the girls' only other top-10 finish, placing ninth in the discus with a season-best throw of 108 feet.
As a team, the Chieftain girls finished sixth with 37 total points. Host school Baldwin won the team title in dominating fashion, scoring 160.5 points to more than triple the score of second-place finisher De Soto.
On the boys side, junior Ben Johnson earned state bids in the high jump and 110-meter hurdles. Johnson, a new addition to the team this season, won the high jump with a season-best mark of 6-2. He finished fourth in the hurdles with a time of 15.87 seconds — less than one one-hundredth of a second behind Sean Dennis of Louisburg.
Johnson barely missed a third state bid, placing fifth in the triple jump (41-.05). He finished 2.5 inches short of a top-four finish.
"I really wanted to get (a bid) in triple jump too, but I can't complain," Johnson said. "There were a lot more people at a very high level. Usually, there are one or two guys that are really fast, but here, there were 10 guys that were really fast."
Johnson also took 10th in the 300-meter hurdles (44.64), giving him top-10 finishes in four events.
The THS boys had several top-10 finishes at the meet, particularly in field competition. Senior Thomas Miller and sophomore Levi Koch took sixth (142-9) and eighth (136-8) in the javelin, respectively, and junior Cody Snyder finished ninth in the shot put (45-8.5) and discus (136-7). Meanwhile, senior Seth Ahart finished seventh in the pole vault (11-0) and fellow senior John Lean took ninth in the long jump (19-10.5).
Sophomore Garrett French had the team's only top-10 finish in distance competition, placing ninth in the 3,200 (10:52.28).
"This was a very competitive regional, but we had a lot of kids get their personal bests," boys coach Scott Peavey said. "That was our goal from the very first meeting in late February. We wanted to peak in May, so we peaked at the right time."
The Chieftain boys came in ninth in the team standings with a score of 17. De Soto won the boys title with a score of 87, edging out Ottawa by two points.
Complete regional results are available here.