HAT

TRICK

: Soccer seniors reflect on successful turnaround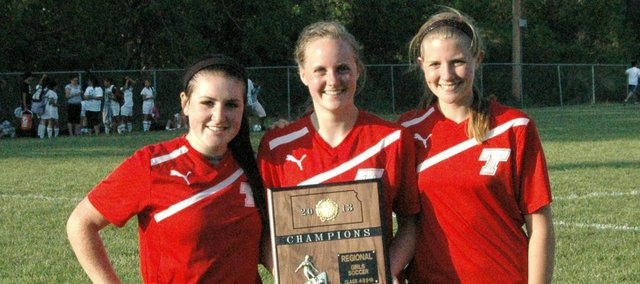 Throughout its early years, the Tonganoxie High girls soccer program was far from elite.
Established in 2007, the team never won more than six games in any of its first five seasons. The Chieftains' best win percentage came in their inaugural season, when they went 6-9. All told, they won just 36 percent of their games from 2007 to 2011 (28-50-3).
One year ago, that all began to change.
To call last season's success unprecedented would be an understatement, to say the least. After an 0-5-1 start to the year, it looked as though 2012 would be just another season. But, unlike in previous years, the Chieftains responded. They went on a 10-3 tear — including an eight-game win streak that broke the school's single-season win record by itself — and ultimately found themselves in the Class 4-1A state semifinals for the first time ever.
"When we came in freshman year, I remember emulating the people on the field," said current senior Christopher Tiner. "They were so fantastic, but they just wouldn't get the results. As you started taking the field, you realized how hard it was, but year after year, we continually improved."
Tiner, a defender, is one of three seniors who played a role on last year's 10-10-1 team. She and fellow seniors Molly Welsh and Kelsi Briggs have already helped replicate some of last year's success, leading the 2013 squad to a 9-7 record, including last week's regional title win against Sumner Academy. This year's Chieftains will end the season with a record above .500 for the first time in school history.
Oddly enough, the turnaround started with a tie midway through the 2012 season. After going winless through its first five games, THS traveled to traditional power Piper and, two overtime periods later, left with a 0-0 stalemate.
"We knew we could do something," said Briggs, also a defender. "We're not just some little school that's trumped by other schools. We knew we could get out there, make an impact and win games."
An impact was indeed made, and games were indeed won. Since tying the Pirates last April, THS owns a 19-12 record highlighted by two regional titles and a state quarterfinal victory. The transformation came full circle when the Chieftains handed the Pirates a 4-1 defeat for their first regional championship in program history.
"All the hard work has just paid off," said Welsh, a forward and the team's leading goal scorer this postseason. "Just one-on-one working with people and just being around the people who make you better, it really pays off in the end. Coming from the background of a great school puts a great effort into our squad."
The team will have a chance to add another quarterfinal win at 5 p.m. when it travels to Spring Hill. A win against the Broncos would guarantee THS a return to the state semis, set for Friday in Topeka.
Regardless of today's outcome, the senior trio's road will reach its end by the conclusion of the week. They'll leave the program better than they found it from a win-loss perspective, but according to Welsh, the real improvement stems much deeper than what's inside the school's trophy case.
"For me, it's kind of bittersweet because it's my last season. It's my other family," she said. "We just need to keep setting an example. That's what gets these younger girls to want to stay. We want to keep making our family bigger and bigger, and that's how we'll get better in the future."