THS

soccer season ends with quarterfinal loss
Chieftains battle, but fall at Spring Hill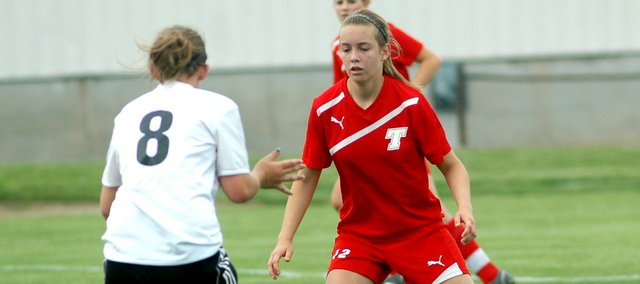 Spring Hill 5, THS 1
First half scoring
Sydney Shoemaker (SH), 38:00
Emily Williams (TON), 36:49
Shelby Spradling (SH), 34:06
Second half scoring
Kaitlyn Pritchard (SH), 27:28
Kaitlyn Pritchard (SH), 11:50
Sydney Shoemaker (SH), 1:14
Spring Hill — The last time the Tonganoxie High girls soccer team traveled to Spring Hill, the Broncos sent the Chieftains home with a 10-0 loss. In Tuesday's rematch, though, THS went toe-to-toe with one of the top teams the state has to offer.
A pair of late goals made for a deceptive final score, but the Chieftains hung tough in a 5-1 loss to second-ranked SHHS in Class 4-1A state quarterfinal action.
The Broncos (12-2) looked like they might take control early when Sydney Shoemaker bounced a shot off the post and into the net just two minutes into the game. However, unlike in their first meeting, THS (9-8) had an answer. Less than two minutes after Shoemaker's score, Chieftain sophomore Emily Williams fired a shot past Bronco goalkeeper Abigail Mikesell to tie the game.
"I was surprise they scored, honestly, but I was kind of curious how we'd respond," coach Justin Seever said. "When a top team in the state smacks you in your mouth two minutes in, most teams roll over and die. We put it right back on them."
Spring Hill went back in front when Shelby Spradling scored on a free kick with 34:06 left in the half, and a back-and-forth battle ensued. THS got a chance to even the score just before halftime when a collision in the box left the net open, but a shot attempt by junior Taylar Morgan ricocheted off a Bronco defender.
Mikesell kept SHHS in front with two big saves early in the second half. She intercepted a cross from senior Molly Welsh to Morgan in the opening minutes of the period, then made a diving stop on a free kick by junior Madison Simmons with 27:55 remaining.
"We had some great opportunities that just didn't fall our way today," Seever said. "(Mikesell) was huge today. She had monster saves all around. If they don't have her playing out of her mind, who knows what this game looks like?"
Spring Hill's Kaitlyn Pritchard made it 3-1 with a goal less than 30 seconds after Simmons' failed scoring attempt.
The Broncos padded their lead with two more goals in the game's final 11:50 — one by Pritchard and another by Shoemaker. THS, which used just one substitute, got beat on the late goals when it started pressing in an attempt to create more scoring opportunities.
"I used one sub off the bench, and she played a total of maybe 12 minutes," Seever said. "I wish I had an opportunity to get more people a few breaks, but we were battling. Those 11 girls were the ones that got us here."
Seever's squad, a state participant in each of the last two seasons, finished the year with a winning record for the first time in school history.