TRIFECTA

: Whitledge wins third state high jump title
THS

grad becomes school's first three-time state champ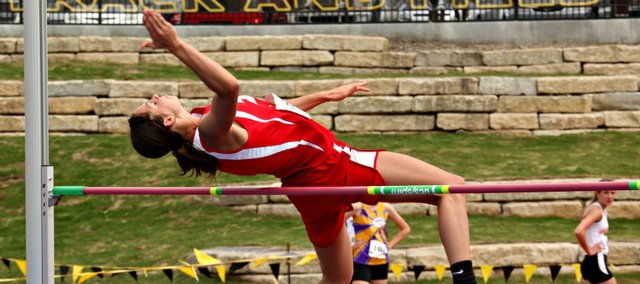 In her previous two trips to state, Tonganoxie High's Jenny Whitledge left Wichita State University with a Class 4A high jump title. The stakes reached an all-time high in her final trip to Cessna Stadium, but once again, she found herself on the top step of the podium.
Mere feet from her soon-to-be home, Whitledge became the Chieftains' first-ever three-time state champion, winning the event in a jump-off with Shania Vannoster of Independence.
Whitledge and Vannoster each cleared the bar at 5 feet, 6 inches, forcing a tie as the only two jumpers remaining. Both missed at 5-8, 5-7 and 5-6 in the jump-off, and Whitledge got a chance to clinch the title when Vannoster came up short at 5-5.
The recent THS graduate capitalized on the opportunity, easily clearing the bar to cap off the first three-peat in school history.
"At first, I didn't even realize it," Whitledge said. "My first thought was to get off the mat in case I hit (the bar). When I looked up and saw it, I didn't really even know what to say or think.
"I was a little nervous because I'd never had to do (a jump-off) before. I'd never been in that situation, but I just had to compete and have fun. It was just about taking a deep breath and making the jump."
Oddly enough, Whitledge's third and final high jump title came just outside Charles Koch Arena, where she'll begin her Shocker volleyball career in the fall.
As she has so many times in the last three years, Whitledge had a teammate by her side until the final jumps. Chieftain junior Haley Griffin took third in the event with a personal-best jump of 5-6. She joined Whitledge and Vannoster as the only three jumpers to clear that height, but finished third because she had more misses at a previous height.
"I think we both did really good today," said Griffin, who beat her previous best of 5-4.25. "I'm sad that we won't be jumping together again next year, but I think we both jumped as well as we could today.
"Next year, I'll keep her in the back of my mind and hope she's cheering me on from Wichita."
Griffin now has two top-three finishes at state and three in the top 10. She finished second at last year's meet and eighth as a freshman in 2011.
Fellow junior Ben Johnson, the Chieftains' only boys qualifier, also opened his state schedule Friday with a 15th-place finish in the 110-meter hurdles. Johnson finished his first-ever state event with a time of 16.2 seconds. He wrapped up competition Saturday with a 13th-place finish in the high jump. He was one of six jumpers to clear a height of 5-10. Girard's Drew Davied (6-8) won the individual title.
THS failed to record a point in the boys team standings. Andale won the team title with a score of 85, finishing 32 points ahead of second-place Wamego.
Whitledge and her sister, sophomore, Jackie Whitledge closed out the Chieftains' trip to state when they competed in the long jump on Saturday. Jenny finished sixth in the event (16-6.25), while Jackie came in eighth (16-4). Jenny accumulated 14 points at the state meet to further distance herself as the school's all-time leading point scorer. She ended her career with 773 total points — 15 more than previous record holder, 2008 grad Tracy Hileman.
As a team, the THS girls finished in a four-way tie for 10th place with 20 points. Baldwin captured the team title — its third in the last four years — with 84 points.
Girls top 10 team results
Baldwin, 84; 2. Paola, 67; 3. Andale, 52; 4. Wellington, 35; 5. Osawatomie, 28; 6. Concordia, 24; T7. Coffeyville-Field Kindley, 22; T7. Wamego, 22; T7. Topeka-Hayden, 22; T10. Fort Scott, 20; T10. Tonganoxie, 20; T10. Rose Hill, 20; T10. Hugoton, 20.
Boys top 10 team results
Andale, 85; 2. Wamego, 53; 3. Ottawa, 48; 4. Rose Hill, 46; 5. Winfield, 44; 6. Piper, 33; 7. Coffeyville-Field Kindley, 28; T8. Prairie View, 26; T8. Ulysses, 26; 10. De Soto, 22.