Chieftains earn All-
KVL

honors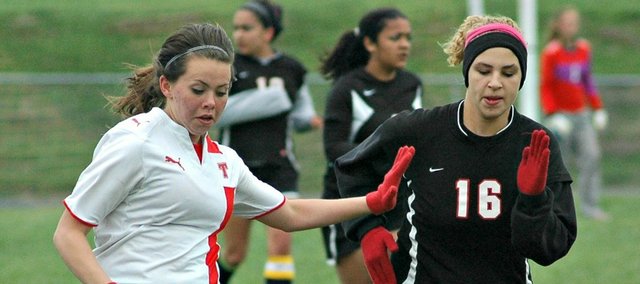 Several Tonganoxie High athletes have been recognized by those who coached against them during the recently completed 2013 season. Fifteen Chieftains have been named to All-Kaw Valley League teams, including four first-team selections.
Junior Shane Levy received a first-team nod as an outfielder on the All-KVL baseball squad. He was the league's only unanimous selection. Offensive production came early and often for Levy, who hit .496 with eight doubles, two triples, two home runs — one of them a grand slam — and 23 runs batted in. The THS right fielder also drew a team-high 16 walks and finished the year with a .686 on-base percentage.
Fellow junior Marissa Martin was also named a first-team outfielder on the softball team. She hit .462 in 2013 with four doubles and eight RBI. Martin also emerged as a solid defensive threat, committing zero errors as the team's regular left fielder.
Juniors Emily Soetaert and Aly Bartholomew each garnered first-team soccer selections after leading THS to its second straight regional title. Soetaert, a forward, led the Chieftains with 14 goals and 11 assists. Bartholomew, a defender, spearheaded a late six-game win streak in which THS allowed just 1.3 goals per game and recorded two shutouts.
Senior Brett Shelton (utility), junior Travis Woods (pitcher) and sophomores Colten Weaver (outfield) and Brady Swedo (infield) each earned second-team baseball selections. Shelton hit .319 in his final season and had game-winning hits against Basehor-Linwood and Bishop Ward. Woods went 4-4 on the mound, including a 4-0 mark in KVL play, and threw five complete games. Swedo finished just behind Levy with a .486 batting average and scored 11 runs, while Weaver hit .315 and scored 12 runs.
Senior Kelsi Briggs earned a second-team nod as a utility player, but primarily played midfielder for the Chieftain soccer team. She scored just one goal this season, but played a large role in the team's late-season surge that led to the first winning record in program history.
Freshman Sammi Bates (pitcher) was the softball team's only second-team selection. She went 5-1 in the circle, striking out 56 while walking just 23 in 57 innings pitched. Bates also did plenty of damage with her bat, hitting a team-best .471 with five doubles, three triples and eight RBI.
Senior Jaycee Knipp (infield) and juniors Lainy Walker (catcher) and Caly Ingle-Maxwell (infield) all earned honorable mention softball selections, while senior Molly Welsh (forward) and junior Madison Simmons (midfield) earned honorable mention soccer selections.
THS 2013 All-KVL selections
Shane Levy — First-team baseball (Outfield)
Marissa Martin — First-team softball (Outfield)
Emily Soetaert — First-team soccer (Forward)
Aly Bartholomew — First-team soccer (Defender)
Colten Weaver — Second-team baseball (Outfield)
Brady Swedo — Second-team baseball (Infield)
Travis Woods — Second-team baseball (Pitcher)
Brett Shelton — Second-team baseball (Utility)
Sammi Bates — Second-team softball (Pitcher)
Kelsi Briggs — Second-team soccer (Utility)
Lainy Walker — Honorable mention softball (Catcher)
Jaycee Knipp — Honorable mention softball (Infield)
Caly Ingle-Maxwell — Honorable mention softball (Infield)
Molly Welsh — Honorable mention soccer (Forward)
Madison Simmons — Honorable mention soccer (Midfield)