Tidal Waves open 2013 season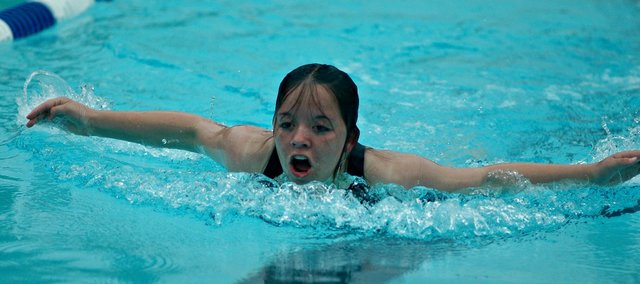 The first days of summer haven't necessarily been ideal for swimming, but that hasn't stopped the Tongie Tidal Waves from hitting the water in preparation for their fifth season.
The Tidal Waves opened practice Tuesday at Tonganoxie Water Park. Kids ages 5-18 will compete in five meets this season, including three at home. The team will compete in the East Kansas Swim League for the third year.
"Even though (Tuesday) was our first day, there were a ton of kids here," coach Janet Falk said. "People are becoming more aware of it in the community. It's a huge activity for the kids and it's good for strengthening their swimming skills, but it's also a fun team sport."
Falk estimated this year's team will consist of nearly 100 swimmers, up from 85 last season.
The team will open a stretch of three straight home meets on June 7 against Bonner Springs. Leavenworth and Piper will also make stops in Tonganoxie in June. This year's EKSL preliminaries and championships will take place at Bonner Springs.
Tonganoxie hosted the prelims and championships last season. Falk, the team's head coach since its inception in 2009, said she added a third home meet this season for a myriad of reasons.
"It's good for our community, and it's also a convenience," she said. "The meets always go smooth because I have great parent cooperation, so the other teams are more than willing to come to our meets."
The Tidal Waves will practice from 8 to 10 a.m. every weekday leading up to their first meet.
Tidal Waves schedule
June 7 — vs. Bonner Springs, 7 a.m.
June 14 — vs. Leavenworth, 7 a.m.
June 21 — vs. Piper, 7 a.m.
June 28 — at Bonner Springs, 7 a.m.
July 8-9 — EKSL prelims at Bonner Springs, TBA
July 11 — EKSL championships at Bonner Springs, TBA